Don't you want to play spikeball? Of course, you do, and why not! Anyone who seeks to add fun competition and friendly games in their life would want to play it.
And you are very lucky if you and your friends know about this interesting game and play it with each other. Still, you would be luckier if you have good quality spikeball equipment that never disappoints, and makes the game worth it.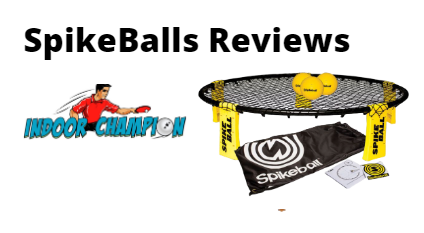 Best SpikeBall Sets Reviewed:
1. Spikeball Pro Kit :
This set is for players who want to take the game seriously and want to have competitive matches. This set is used in all the officially regulated tournaments, hence making it more suitable for serious players.
It is not always an easy task for people who just simply want to have a fun game to search about and shop for the best equipment available. For this reason, we chose to surf the market for the best spikeball sets available and review them here for people who want to try out this game and are searching for good equipment. So before reviewing this particular product, lets have a look at our comparison table:
Included in this set is a strongly-built spikeball roundness, two standard balls, a disc for calculating the circumference of the balls, a book of rules for the game, and of course, a bag to put all these things in.
What's more, the set includes one free registration into an official spikeball tournament of the buyer's choice. The increased strength of the roundness offers a stable playing field even in an outdoor setting.
Pro: Its material is 33% stronger in quality. Comes with a free tournament entry. The best thing is that it comes with a lifetime guarantee from the makers. The balls are textured for better grip and control.
Con: It is really expensive. If you are just a casual player, it might not be affordable or suitable for you.
2. Spikeball Standard 3-Ball Kit:
This set is a simpler, but equally credible version of the spikeball pro kit. It is made for more casual purposes and for players simply seeking fun with friends. However, this set also complies with the tournament regulations, hence can be used for serious play. It is a great set for beginners. It comes with 36" round net and three balls, along with a rule-book. The balls are smooth and not textured like the ones in the pro kit. Setting up the gear is easy, and comes with a string bag.
What we like: Best suitable for casual players. The set can sustain itself for a long period due to strong body. It is easy to handle and store, as it has foldable legs. Moreover, it comes with a lifetime warranty on the parts from the manufacturer.
What we don't like: The air pump isn't included in this set. The balls are not as great as in the pro kit, as they are not textured but smooth.
3. GoSports Slammo Game-Set:
ade by GoSports, this set not only offers aesthetic appeal but is also the least expensive among the good quality equipment for the sport. The roundnet is made with a strong PVC, a durable net and comes with a carrying bag, two 9cm balls and one larger, 12cm ball for beginner's training. It is a durable kit and is guaranteed to offer you a good experience, whether you're playing casually or competitively.
What we Like: Comes at a very affordable price. It is very easy to set up. The best thing is that it comes with a lifetime warranty for parts. There, you only have to buy it once and if any part breaks, you can always ask for a replacement.
What we don't like: its rim can be damaged by hot weather.
4. GoSports Slammo XL Game Set:
Also made by GoSports, this set has similar looks and design to the Slammo Game Set. However, this one is targeted towards kids and new players, as it features a bigger roundnet (forty-eight inches, which is 75% larger than the common roundnet) and 200% sturdier than the standard Slammo GameSet. This set provides a larger playing area that makes it attractive for kids and people who are just getting to know the game. It is also suited if there are more players in a game. Its strong legs are made of rubber, making it safe and stable to place on a variety of surfaces. The set comes with three large 6" balls, an air pump and a bag. It also comes with a lifetime guarantee for all the parts.
What we like: Best for kids and beginners, great for casual games. The net provides high bounce, and its excellent material provides durability and stability. The lifetime guarantee for the parts is also a great feature of this set.
What we don't like: Not suited for competitive play, as this set is not up to the official spikeball standards. If you are a serious player, then this set is probably not for you.
5. Spikeball Spikebuoy Water Kit:
Spikeball can be played on any surface, and yes, even on water! With Spikeball spikebuoy water kit, you can now enjoy the game in a lake or a pool! The set comes with a standard 36" target, 3 standard balls, spikebuoy water add-ons, and 2 glow balls, that are fun to use in a darker place. It is easy to set up, just attach five floats to each leg, fill the anchor bag with sand or pebbles, and attach the other end to it, and you are ready to dive in!
What we like: Makes the game more fun by making you able to play in the water. It is attractive for kids and adults alike. Best for you if you have a water body and seek fun and enjoyment in summers!
What we don't like: Water kit is useless if you do not have a pool, lake or any shallow water body at your disposal.
6. Spikeball Rookie Kit
Spikeball Rookie kit comes as a special edition of official spikeball game set for kids. It is meant for kids age 12 and under. It comes with a 50% bigger net size than the standard spikeball set for a bigger target and a 50% bigger ball with added texture to provide easier control. It comes with modified rules to make the game more amusing and learning for the kids. It also comes with a lifetime guarantee and will replace any broken parts free of cost.
What we like: It is specially designed for learning purposes for kids age 12 and under. They also provide a warranty for the replacement of the damaged parts for a lifetime. The rules are made easier for kids.
What we don't like: It comes with only one ball.
7. Funsparks Spike Game Set
Funsparks give you another spike game set filled with fun and enjoyment. This set is made from high-quality PVC and premium netting to ensure an evenly consistent bounce back. The set comes with two balls, one for training and one for regular gameplay. It also comes with track hook technology to make the assembling of the set more simpler. The case comes with a slim and simply stylish look for better handling and carrying all across your way.
Pro: Made from high-quality PVC and premium quality netting to provide smooth and sound gameplay every time. Plus, Funsparks also provide well-established customer services, giving you an option to replace the product fully and even refund completely if you are unhappy with the product.
Con: It does not come with the rule book so it would be useless for you if you do not know the rules previously. So you have to learn the rules on your own.
8. XGEAR Volleyball Spike Game Set
XGEAR spike ball game set brings you a durable game set. It comes with 4 inflatable balls – 2 balls of 3.5" and 2 balls of 4.7", 1 pump, 1 book of rules, 25 hooks, 2 nylon mesh nets – 1 extranet piece, 5 PVC frame pipes and 5 legs. The improved nylon nets give extra bounce and spin for an extraordinary enjoyment filled gameplay along with good quality balls.
What we like: Comes with unmatched pipe hook design, tough legs and special frame design, on which hooks can be attached easily on the shortest distances which would not allow the net to displaced and dislocated while the game is in run. The real plus point of this set is that it comes with an extra piece of net which is free of cost. So you do not have to worry if your net gets misplaced or damaged.
What we don't like: This set does not come with a warranty on parts.
9. Striker Beach Volleyball Spike Game
Striker beach volleyball spike game set includes a durable PVC pipe frame, 3 regular balls, a pump with needle for inflating the balls, and a commercial-grade net and a gameplay manual to provide you a fast-paced fun for your lawn, BBQ, camping, sporting events and even for indoor settings. It is lightweight and easily portable with a slingshot backpack. It comes with the adjustable net flexibility so you can tighten or loosen the net according to your gameplay style, so it's your choice!
What we like: It comes with a 100% net coverage all over the frame to provide full bounce to enjoy your game. Furthermore, it also has adjustability for the net to adjust it accordingly to your ease.
What we don't like: The net quality is not high so it has the capability to be damaged if used not carefully. You have to buy the net separately if the given net gets damaged.
10. JOGENMAX Spike Battle Ball Game Set
JOGENMAX spike battle ball game set comes with stable legs which has PP suction cups to protect your floor from scratch! It has easily foldable construction frame, metallic legs and a handy pump to inflate the balls. So you would need only a few minutes to set up and start your match. 3 glow in the dark PVC balls are also included in it so the night would not interrupt your fun and entertainment. The strap around the frame also has 4 glowing, luminous belts on every side. JOGENMAX offers its customers unconditional replace, refund and return services within 60 days after the purchase too.
Pro: It comes with luminous PVC balls which will help you enjoy your match even after sunset. Its metallic frame and legs increase its durability and strength and you would not regret on the quality. The suction cups on the legs also helps to strongly stick to the ground so the set would not dislocate while you are playing the match.
Con: The net quality is not up to the mark.
Buying Guide:
1) Why are you buying:
First of all, the buyer should have a general-purpose in mind before making a purchase. Whether you want to buy a spikeball set simply to have fun with your friends now and then, or you want to make your name as a good player in the competitive sport. Whether you are purchasing for kids or for adults. Whether you are buying for two players or more than two players. Whether you are a beginner or already have a good grip on the game. Or even whether you are buying to play at your home backyard or a public beach can affect the product suitability. The reason for your purchase is central in deciding which of the sets is best suited for you, in other words, the set which is best suited for you depends on the reason you want to buy it.
2) Material Quality:
The quality of the product is an important factor you must consider while buying. The quality of the product is directly proportional to the quality of your experience while using it. A good quality spikeball set would make your experience of the game a good one. Quality also ensures that you would be able to use the product for a longer time. The Spikeball roundnet takes a lot of hits during the game, so a set with stronger rim, legs, and body would prove more durable and long-lasting. The net is also a crucial part, as it provides the bounce. Tighter and stronger nets provide better bounce to the balls. You can judge the quality of the equipment through various means, the easiest of which is by checking the details of the materials used by the manufacturer and by watching reviews from people who have used it.
3) Ball quality and quantity:
Spikeball is a ball game. Balls are the central component; these are what you play the game with. Different sets include a different number of balls. Buy a set with an appropriate number of balls, that is, each ball for every player. Balls also differ in texture, size, and other properties. A plain ball, without any texture, is good for casual games while the textured balls are used and recommended for competitive and officially sanctioned games. The common sized ball is better for adults and people who already know the game, whereas bigger balls are also available, and are targeted for kids and beginners. There are also glow-in-the-dark balls, which provide a better experience if you are playing indoors or when it is a little darker outside. Buy a set with your kind of balls, according to your needs and purpose.
4) Accessories, add-ons and other benefits:
Look for a kit that provides a complete set of accessories used the game while comparing the prices and choosing the one in your price range and according to your need. Some sets include guarantee and warranty with the purchase. Others include rule books, air pumps, and other useful gear. An air pump is a necessary equipment, while rule-book or leg floats aren't that much required if you already know the rules or do not have a water body in which to play. Buy a set which includes the things you would surely need. Look out for any discounts or additional offers the manufacturer might be providing.
Wrapping it up!
To conclude, these are some of the best spikeball sets available currently in the market. Now having know-how of the equipment, you should decide carefully what is that you ought to buy, keeping in mind the properties, prices, the pros and cons, and your needs. Go and grab your kind of spikeball set and start playing right away! Share your experiences by commenting below!