In my childhood, I used to observe my uncle playing a dreary slow game by creeping strange pieces on the board of mixed light and dark-colored checkboxes.
I always wondered how could one play such a mind-numbing game? With the advancement of knowledge, it came up that chess is a centuries-old game that has still grabbed the attention of millions of enthusiastic people.
Getting some of the very best chess sets under $100 isn't impossible. I did a lot of research and found a few sets. So let's get started.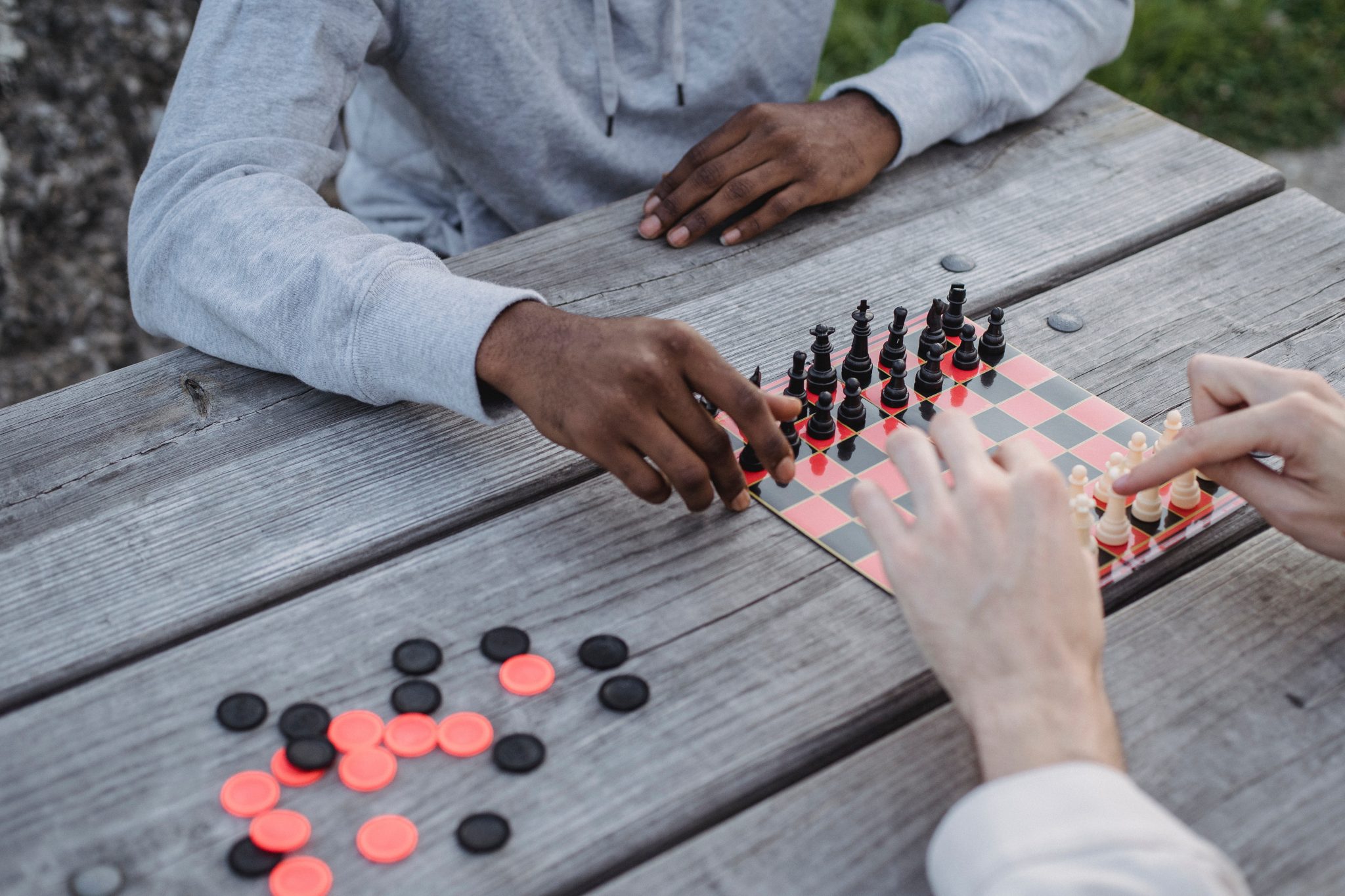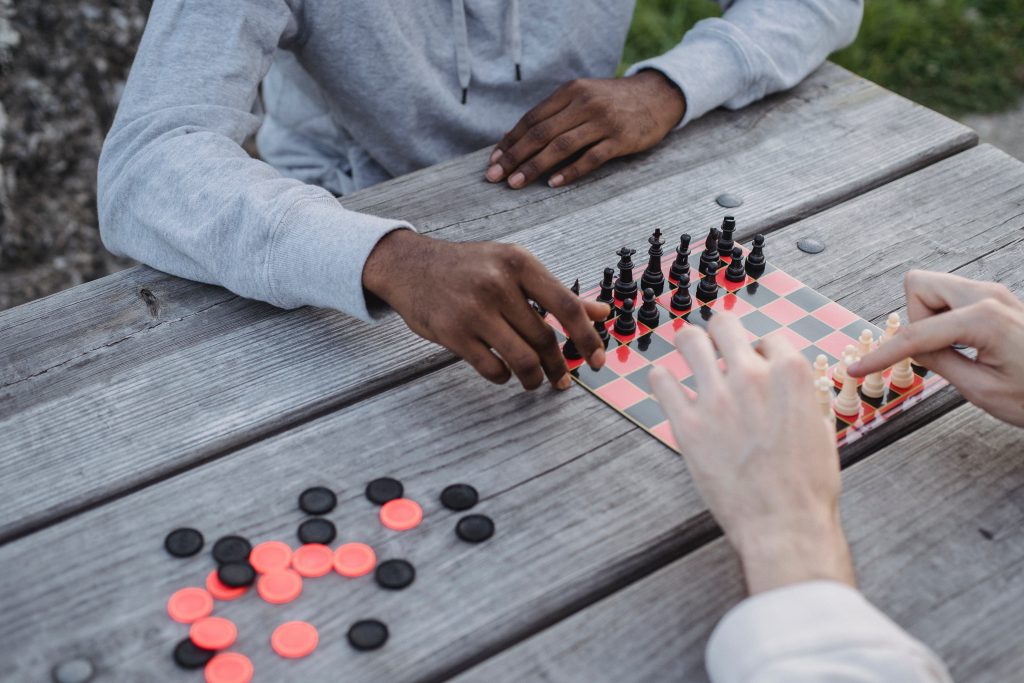 Best Chess Sets Under $100
You can pretty much make your decision base on my above table. If you are looking for more in-depth reviews, please keep on reading.
1. Weigel Handmade
Who is unaware of the name Weigel? European Ambassador from Weigel is as promising as is the brand.
It is a beautifully handcrafted folding wood board. This high-quality board is made in Poland. Board is a perfect aesthetic site for everyone.
It has a nice color combination of brown and off-white. The border of the board is decorated with numbers and algebraic coordinations that can make anyone love the chessboard.
Before going into more details, let's have a look at our comparison table
An opportunity to research the topic has given me a chance to dig deeply into the topic and find out the hidden zest of the game. Chess is a very dynamic game.
There is a long long list of amazing chess boards and selecting the best one is quite a tricky task.
On folding, the board becomes 2.24*2.24 inches. Lengths of all pieces are ensured to be in accordance with FIDE standards. King measuring 4.5 inches, queen 3.66 inches, and pawn 2.28 inches.
Board is made from Birchwood and Beechwood that ensures the durability of the board. Chessmen are felt bottom and weighted. Chessmen are made from special hornbeam and sycamore wood.
Board can be neatly folded by two folding clasps. For securing the chessmen there is a special space built for each of the pieces to secure it safely.
All this comes at quite an affordable price. It is suitable for most of the players. The only consequence that some may find is that it is slightly less weighted. This can sometimes cause your chessmen to fall.
2. Radicaln Marble Chess
It is a piece of delight for chess devotees. Anyone will love to add this wonderful piece to their collection.
Chess sets come in a wide variety. Instead of typical wooden sets. Various experiments were done with the chess sets. We have a range of chess sets that are constructed from precious jewels to marble. One such set is from Radical. It is a jaw-dropping handcrafted set that is built all from marble. Gloss from marble make this set sleek attractive.
It is among one of the Amazon's choice and most positively reviewed. The board size is 12*12 inches. All the pieces are perfectly detailed and perfectly sized with knights and rooks ranging from 2- 2 ½.
Chessboard is built out of marble and coral and is thoroughly polished. Board is weighed 6 kg. And all pieces are rightly weighted to prevent them from ripping apart and spoiling the game.
Everything is so good about the product but for some cases, it is seen that pieces may lack some fine details in their features. But overall you might not have much problem with it and you will love playing with this set.
3. Burnt Golden Rosewood
It is among one of the most luxurious boards by the house of Staunton. Developed in Spain this board has been applied with a unique glossy finish that beholds the attention of everyone. Set comprises of chessmen, board and storage box (on payment of some additional charges).
Board is completely wooden, made from fine pieces of Blackwood and Olivewood for dark and light squares respectively. The size of the board is 23.75 inches and its height is 0.5 inches. The weight of the entire set is 40.8 ounce.
Like the chessboard, chessmen also compliment the chessboard for ameliorating the beauty of the set. As from the name of the board, chess pieces are carved through unique burnt technique. They are hand-carved by senior artists from the House of Staunton from finest Boxwood.
King is heightened 4 inches, with 1.6 inches baseboard and billiard cloth base pad. 2 extra queens have been added to compensate for any loss, this brings the count of pieces to 34. Pieces are then perfectly weighted, stained and burnt to bring out detailing of pieces.
Instead of the inlaid carving in the chess box for storing pieces, you will need a separate chess box where you can efficiently store all pieces. Chess box can be customized to be made from Red Burl, Mahogany, Elm Burl, Brazilian Rosewood, Birdseye Maple, Bubinga Burl, and Olive Ash Burl.
4. Man Ray Chess Set
It is designed by Man Ray, a very well known chess designer of his time from Italy, who gained fame by designing the most modern chess set for that time by using abstract geometric figures. Original chess sets from May Ray are rare and expensive ones but there are manufacturers who keep a licensed replica of Man Ray chess set re-edition 1920.
Board is a fine reflection of the elegance of Beechwood. The size of the board is 17 inches square with a height of 0.75 inches. There is a standard of 32 pieces with the board.
An interesting fact is that chessmen of Man Ray are represented by different shapes each having a hidden in-depth meaning. The chess sets pleasantly give historical vibes.
Golden pyramids represent the king, as pyramids symbolized Egyptian kings at the time of Pharos. For complimenting kings, queens are given cone shape. This shape has drawn resemblance from cone-shaped crowns worn by queens of medieval ages. This beauty of medieval time queens is truly captured in the form of cones of the set.
Bishops are shown with flagons. Flagon was a type of drinkware that was used by bishops for concocting their own liquefiers and spirits. Rooks are shaped in the form of beautiful cubes. Pawns are spherical figures with reduced base and Knights are made to resemble the scroll of a violin. The original knight was sourced from an Italian violin manufacturer.
King is heightened 3.25 inches, as is the queen with a 1.5 inches base. Bishops are 2.75 inches, knights are 2 inches, rooks and pawns are 1.4 inches tall.
This is a perfect chess set for any art lover and one will always love to decorate their homes and play with a unique chess set that obscurely reminds us of history.
5. Blue and White Alabaster
This is my personal favorite one. If you love to see vibrant colors instead of the same dull boring themes of typical chess sets, then this is the one for you. When it comes to the science of vivid colorful combinations then there is hardly any comparison with the Blue and White Alabaster Chess set.
This set is handmade by Scali Albestro of Italy. It gives the feeling of natural stone. It is a simple minimalist from the House of Staunton but yet it singularly stands out from the rest of the crowd. This Alabaster chess set is made from fusing together high quality and unique Alabaster stones found in Italy.
These stones are dyed to their natural color but due to differences in veins of stone each stone absorbs the dye differently. Board is polished edge to edge for keeping the board well composed.
Board square is 13.5*13.5 inches and 2 inches thick. Each individual square is 1.5 inches wide. Heights of all the pieces are set ideally. King is 3 inches with a base of 1.3 inches.
To keep the pieces intact they are kept in an inlaid compartment that can hold each piece into its own molded space.
This phenomenal set is available with 90 days money-back guarantee and two years warranty. You will also get a cleaning cloth for keeping your board set crystal clear. So if unfortunately, you get a defected piece by default then no worries you can get a new one.
This is a very striking set and gives you a break from typical wooden sets. The only thing you should bear in mind is that be careful with handling the set. The fragile marble is prone to breakage and needs to be handled deliberately.
Types of Chess Sets
An interesting fact: Jewel Royal Chess set made with collaboration of Boodles and Jewels Royale is the most expensive chess set with the price tag of 1249,249 Euro. A King chessman is made fabricated with 18 carrot gold and pieced with rubies. It alone is worth 55,768 Euro.
There is a wide range of chess sets that makes the choice of set difficult. There are various metallic and delicate sets that are more suited for display purposes and add glory to your living room, while some materials allow more smooth playing for serious and regular chess players.
Materials
1. Wood
Playing with wood is the most practical option and the majority of players like to opt for playing with wooden sets. Most commonly used woods for assembling such boards are
2. Bud Rosewood
These are absolute for chess players who love red and prefer darker colors. It is also known as blood rosewood and red Sandalwood. It has a rich tint of grains. It is a bit expensive but in the end, you will find that your money will pay off.
3. Rosewood
It is most preferably used for making chess. Rosewood is rich in grain and is an excellent wood that is also used for making furniture, guitar, wood flooring, etc. some of the premium quality wooden boards are constructed using the rosewood. They are dark like bud rosewood but are colored brown instead of red.
4. Ebony
Though to be on the expensive side, yet boards carved from ebony mark it as a paradigm that stuns others. They are very dark-colored and appear as black hardwood. One drawback of using ebony wood is that it needs to be rightly adjusted with the humidity as it becomes sensitized to cracking.
5. Ebonized
Ebony and Ebonized are two different terms. Ebony is an expensive wood that can not be afforded by masses. In order to gain the same lust as of ebony many times, boxwood pieces are colored like ebony.
This makes people difficult to differentiate between Ebony and Ebonized set. Thus ebony effect can be enjoyed at a ridiculously low cost.
6. Sheesham
Sheesham also is known as North Indian rosewood is used in Many beginner-level sets for a darker shade. It is a medium brown wood, unlike rosewood, it does not shows grains of wood. It is slightly expensive but it is tough wood that guarantees durability.
7. Boxwood
It has fine grains that make it ideal for wood carving. Boxwood is a lighter colored wood that is mostly used for making light-colored checkboxes.
Some other commonly used woods are maple, birch, walnut, aspen, wenge, rosewood, teak, mahogany, sycamore, elm-root, and ebano.
Wooden boards are mostly adored by chess lovers due to its graining effect. Wood is a material that is more readily available. It is lighter in weight. One can play carefree on the wooden board as there are lesser chances of breakage of pieces from falling.
Due to this, it is preferred by players for day to day use. Wood is available in heterogeneous shades. These boards are mostly machine-made but can also be handcrafted.
8. Glass
Many primitive chess sets were innovated with glass. Most glass sets fin its traces back to the 9th century.
Nowadays Glass made sets make a fantastic set for the purpose of decoration. Glass physique can be in different forms. It can be colored, lucid, fogged or translucent. Glass can reflect light that produces awfully vivid sight for spectators. Sleek looks of glass are enough to tether attention from anyone.
It is durable and can survive for longer times as it doesn't go through the oxidation process. But nevertheless it is an expensive option plus they need to be dealt with much care.
9. Metal
Many most beautifully carved sets are built from metal. Chess sets can be constructed from gold, silver, pewter, ivory, and bronze.
Bronze chess set is an amalgam of all qualities that any chess player will look for. It is lustrous and pieces are weighted that gives a pleasant feel to player. Gradually with time set develops a greenish tint known as verdigris that multiply for the enchantment of set.
Pewter is also an excellent choice for players that love to add weight to their pieces yet at remarkably low costs.
Gold, silver, and ivory are the most expensive options. Chess freaks that love to collect chess sets will love to go for this option. Gold can be made from 18k gold or .925 sterling silver.
Chess sets from ivory are usually vestige sets. Ban on ivory makes has reduced the existence of such sets. Ivory sets are perfectly weighted and are highly-priced sets.
10. Plastic
High plastic quality in today's world has established its credibility as a reliable material. Plastic is a good option and many beginner-level players have taste for plastic.
Plastic is a material that is easily available and affordable. Plastic sets are ideal for traveling. They are waterproof, have no hassle of rusting and can be produced in any color. Plastic is often mixed with fiberglass for increased strength.
Sizes
1. Normal
Normal-sized chess sets are the most convenient option that allows players to compete in casual games or tournaments or just for the purpose of collection. Normal sets are made in compliance with FIDE standards. Each square measures 2-2 ½ inches. King should be 3.35- 4.13 inches and it should occupy 75% area of a chessboard.
2. Giant
Chess is a typical two-player game but new innovations in the game has allowed more than two players to play game at a time on a giant board. Playing on giant boards is fun. The large size of the board makes it more suited for playing outdoor or in large rooms. Giant boards can be from 8, 12, 16, 25, 27, 48 to 72 inches.
3. Small
Chess is an irresistible game. When a person starts playing chess one often finds himself captivated by the magnetism of chess. Small-sized chess boards were developed for ease to carry them while traveling. The small board can be 4 inches board with magnetic pieces that prevent pieces to slip during traveling. Such boards can be foldable or roll up fabric.
Themed Chess Boards
Many people are inspired by various themes. Many themed chess boards were developed to mingle the awe of chess with people's favorite characters. Themed chess sets may belong to historical, fantasy or pop culture chess sets. Few of such themes are
1. Dragon
Dragon chess sets are rated as best themed chess sets. Boards are made from glass and metal. Dragon theme means that every aspect of the game has a depiction of dragons. All chessmen of the themed chess set are dragons. Pawns are represented by smaller dragons and chessboard is built 3D to give the player lavish experience.
2. Harry Potter
Who has come out of craze from their childhood crush harry potter? Harry Potter chess is a themed chess that allows you to experience yourself in the world of harry potter. This chess is a replica of wizard chess that was played in Harry Potter and the Soccerers stone.
So if you are a Potter lover then this is a must.
3. Civil War
Civil war-themed chess is a gift for those people who want to find a trace of action in everything. In history, many highly expensive sets were developed on the theme of civil war. Original Sun Tzu's Art of War developed by Victor F. Scharstein had a value of more than 705,782 Euros.
Chess based on civil war has peculiarity from other chess games. Instead of black and white sides of chess are named as Union and Confederacy. Chessmen can be inspired by the era of Abraham Lincoln, Robert Lee, Ulysses Grant, and Jefferson Davis.
4. Medieval Ages
Medieval ages were a raw era known for action. Chess sets based on medieval ages have always been popular. Set can depict Renaissance, Crusades, Robin Hood. such a game is showcased in wooden, glass, metal or plastic sets.
Some other popular themes are gold and silver Egyptian themed chess set, batman, lord of rings, animal kingdom themed chess set.
Type of Boards
Vinyl Rolfex Board:
It is the most suitable type of board for beginners. It is a cheap one and is always handy to carry.
One Piece Wood Board:
This wooden board has only one intact wooden solid piece that can't be folded. It is an attractive option as most captivating sets offer a piece of wood board. But this is comparatively lesser portable for carrying.
Folding wood Board:
It is the common type of board where two pieces of wood are remarkable joined in the middle to allow folding of the board and store it at any time.
3 Players Chess Sets
The board is shaped Hexagon to give game a modern touch and accommodate three players into the game. The game is won by the player who first delivers a checkmate. For allowing even moves center squares of game are connected.
Vertical:
As dart is hinged on the wall, similarly this variant of chess is mounted on the wall and is partnered with magnetic chessmen. If you lack space then it is a good option.
Circle:
This type of chess has 4 rings and 16 squares. To win the game, a player must do stalemate, checkmate, and a 'bare king'.
Things to consider before buying a chess set
First few things to be clear about before buying a chess set are
Purpose of Buying?
Whether you want to play chess regularly, occasionally, or you just need to find a decorative piece. Fragile or precious materials such as glass, marble, metals make good aesthetic sites and are perfect for showpieces.
Wooden boards are good for playing as well as decoration.
Your Skill level:
If you are a beginner then you will definitely take a start with a lighter and cheap board instead of jumping onto the heavier board. You can't have an idea of a heavier board until you are not experienced. You can go for more detailed boards when you gain skills in chess.
The same rule goes for kids. For kids, boards are mostly low replica of adult chess. Kids chess is mostly cartoon themed that attracts them.
Your Budget:
Chess boards are available from as cheap as $2 – 1249,249 Euro. this broad price range accommodates people of all budgets. If you are new to chess then obviously it won't be wise for you to invest in an expensive play that you don't need hardly.
Now it is most important to get assured from the crafting quality of product
A regular chess board should have 64 squares with alternating colors ( mostly black and white).
Regular tournament boards are 20*20 inches with a measure of each square of 2.25 inches but board size is not much important for casual playing. The squares on the chessboard should be 2 ¼ inches from one side to the other, and the king should be from 3 ¾ to 4 ¼ inches tall.
Make sure that pieces of chess are identifiable. All the chess sets have different depictions of chessmen that sometimes become difficult to identify. Moreover, sometimes pieces of chess within game are less detailed that means that you can easily mistake them for the other. Don't push yourself into this confusion and select pieces that can be distinguished easily.
Consider the weight of pieces an important aspect of chess. Nothing can be more annoying in the game then falling of chess pieces again and again and making you lose your points.
Make sure to buy a durable product that will be with you in a longer run. Plastic sets offer more durability as wooden sets are more prone to scratches.
Consider the brand of chess. Some top brands of chess include The House of Staunton, Chess house, Mega chess, The chess store. All these stores are well reputed and have an excellent customer service that allows you to return or replace the board in case of fault.
Playing chess has always been emblemed with higher intellect. But there are a number of health and psychological benefits stapled with playing chess.
By playing chess you focus on the entire scenario of the game through which you can not only improve your concentration rather you can polish your cognitive thinking, problem-solving skills, and bring your memory to the next level.
The decision of playing chess is among your one of good decisions that you will ever gonna take. It needs to be highly applauded. For playing chess you need two things the chessboard and the chess clock, but having a good chess set is the most crucial part of playing a game.
If you don't own a good one you can't enjoy the game. Therefore it is always wise to invest in a high-quality chess set.