If you've opened this article to read about outdoor ping pong tables, you already know that you're a fan of the game. Table tennis is a great indoor and outdoor sport, isn't it?
It's a perfect time off during office breaks to get the blood circulating and the mind working again.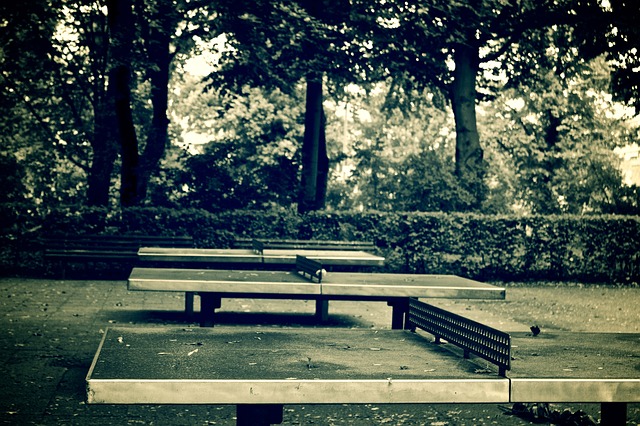 However, if you like to play in an open area purely out of choice or because that's the only place you can put the table, you might have run across some issues.
Some tables have horrible paint jobs which result in bubbles forming on the table surface when it's summertime. Similarly, some tables aren't that durable. A few hits and clashes with the delicate piece of the woodwork will cause it to wobble from one side permanently.
For obvious reasons, ping pong robots should be kept inside. but if you want to enjoy your game outside, you need a durable plus waterproof ping pong table.
Then there are issues of storage and stability as well. If you bought a low costing ping pong table, it is more likely that it won't have any portability features that help you move it from one place to another.
These are all signs of a poor build quality ping-pong table that frankly is just a waste of money. Luckily for you, we have a list of our top 8 best outdoor ping pong tables that are top rated with thousands of positive feedbacks.
Best Outdoor Ping Pong Tables:
1. Stiga XTR
Sale
STIGA XTR Professional Table Tennis...
PERFECT ADDITION TO ANY OUTDOOR PATIO...
BUILT TO LAST - Specifically designed...
ALL-WEATHER PERFORMANCE - Aluminum...
QUICKPLAY DESIGN - 10-minute QuickPlay...
SIMPLE STORAGE - Effortlessly folds into...
Pros
Welded cross borders
Weatherproof top
Safety latch system
Cons
Only 6 mm top
Small 3" wheels
Features
We've discussed two tables until now, both of which are professional quality tables made for budding table tennis players.
The Stiga XTR, however, is made for a different audience. It is an outdoor table like both the Cornilleau 500m and Kettler outdoor classic 10, but unlike these 2, the Stiga XTR is designed for an enjoyable outdoor table tennis match.
It isn't that stylish neither does it provide any mechanism to enhance the ball bounce, but it is an excellent product for its price.
The surface is made from an aluminum composite that makes it waterproof. Hence it can be used in any weather. This is a plus point since an outdoor table has to have weather protection for it to pass the eligibility criteria.
The table surface is 6 mm thick, so don't expect a professional bounce, but do expect a fun time for an enjoyable playing experience.
Durability
With the top already being covered in aluminum composite, the undercarriage and frame are also made from steel, with each leg having an area of 1.25″ with welded cross braces.
This adds up to the overall stability and stiffness of the structure. The table is strong enough to endure small accidents or crashes easily.
Adding on to this durability are the 3″ inch wheels which again aren't the biggest wheel so you can't move the table in every type of terrain, but it's still easier to have wheels than no wheels.
Plus, they help you move around the garden easily, so you have to like that.
The table is also quite portable because it is made of 2 halves that can be closed to move it around easily.
Each half has an in-place safety latch system that is extremely important if you have young children.
Having said that, another advantage of such a table (that has two halves) is that it can be placed in a playback position for anyone to have a single game for practice.
Stiga is known for their tables coming in pre-assembled, the same is the story with the Stiga XTR, which is already 90 percent assembled when it arrives.
This is primarily done to cater to the client, so you can assemble the table in around 10 to 15 minutes so you can start playing.
Price
Even after having a low price, the Stiga XTR provides a sturdy frame with an aluminum composite covered surface along with an already assembled design. The table is also portable and provides a fun playing experience.
If a recreational ping pong table that isn't built for professional matches provides such decent features, then a price value of around $600 is more than acceptable.
Bottom Line
The only con for the Stiga XTR is that it isn't suitable for professional matches or practice, but that isn't even a valid reservation since the table was never built for that.
The bottom line here is that the Stiga XTR is a ping pong table with excellent value for money and is made explicitly for everyday outdoor games.
But if you want something of a more professional look and quality, go for the Cornilleau and Kettler tables.
2. Joola Nova Outdoor
JOOLA Table Tennis Table with Waterproof...
JOOLA - AN OLYMPIC TABLE TENNIS BRAND...
TOURNAMENT QUALITY OUTDOORS:...
NO HASSLE, QUICK SET-UP: Comes 95%...
30mm UNDERCARRIAGE & 3 INCH WHEELS:...
PLAYBACK MODE & COMPACT STORAGE:...
Pros
Decent bounce
Comparatively cheaper
Rust resistance
Cons
Only 6 mm top
Decent bounce; not the best
The Kettler outdoor classic 10 is our top pick for an outdoor ping pong table, it gives you all the best features that a ping pong table should have, but it does that for a gigantic price tag.
This got us thinking, what if you guys want a table that provides a good bounce with decent speed without a price tag similar to the Kettler outdoor classic 10.
In that case, the Joola Outdoor table is our top pick, being a lot cheaper than the Kettler, it still has a weatherproof table surface with rust resistance and a quick folding design.
Starting from the table surface, which is made of an aluminum and plastic composite, the table is 6 mm thick, so don't expect the same bounce and speed you'd get from the Kettler outdoor ten.
However, this is still enough for a decent bounce and speed, so you can expect an excellent recreational match with your friends.
The rust resistance helps secure the table from corrosion in winters, making it a durable structure. You'd also get a quick folding design, so opening and closing the table would be a hassle-free experience.
The table also includes 3″ tall, heavy-duty caster wheels, which make the table more portable and more comfortable to move around so you can set it anywhere in your office building or your backyard if you're at home.
Durability
Here comes the best part, with such a small price as compared to the Kettler, the Joola outdoor is very durable. It is built to withstand extreme weather conditions thanks to its rust-resistance feature.
You won't have to worry about warping in the summers or practically any other weather-influenced issue, having said that it is good practice to keep your table covered when not playing.
The four levelers help get a horizontal playing surface so that the table doesn't wobble from one side.
Like the Cornilleau, the Joola outdoor is made from two halves, which makes moving a lot easier since it can be folded.
This functionality also helps in a single match since you can close the table in a playback position for some practice.
Price
Even when on sale, the table is exceptionally cheap, so the pricing is the main factor here.
Several other tables are much more expensive but don't provide the same array of features as this one.
Another bonus is that the assembly is relatively easy, it won't take you hours to set it up so you can start playing in a matter of minutes.
Bottom Line
For features ranging from rust resistance to providing playback features for self-practice to providing levelers, you get a horizontal surface.
The Joola Outdoor is an exceptional outdoor ping pong table for family fun and recreational matches between friends.
Still, again if you're looking for a professional quality table that will assist you in your rigorous daily practice, then you're better off with the Kettler and Cornilleau.
3. Kettler classic outdoor 10
Pros
22 mm thick table top
Weatherproof undercarriage
Easy to store
Cons
Very expensive
Long assembly time
Less durable wheels
Features
Featuring a 22m thick aluminum-covered playing top and a weatherproof undercarriage with levelers, the Kettler Outdoor 10 is a firmly built ping pong table. The table gives you playback features for single players; you can roll one side and play with yourself for practice.
The tabletop thickness shines for the Kettler outdoor classic 10, with a 22m thick top, you can be rest assured that every outdoor playing experience will now be the same as indoors. The thickness ensures a perfect bounce coupled with consistent speed during a play-off.
Now, if you're a budding table tennis enthusiast, this information would've excited you a lot.
Keep in mind that this table is the real deal. If you're looking for some serious practice or getting the real table tennis experience, the Kettler outdoor classic 10 is the table of choice for you, but not if you're only looking for a time pass for some fun.
The professional quality net is the icing on the cake, Kettler has really outdone itself by first providing a table that can withstand and endure any weather conditions – of rain, snow, and heat-and then providing a professional quality net, which of course if you've played the game, you would know how a loose net becomes a huge nuisance.
Apart from the single-player mode, the Kettler outdoor classic 10 provides a single-hand enclosing system that makes it easy to open close the table. You'll also get a ball pocket at each corner of the table, which makes playing so much easier as you wouldn't have to run in the middle of the game to get more balls.
The table also comes with corner protection to avoid any injury, especially for young kids.
Durability
As we've discussed, the Kettler outdoor classic ten comes with a 22m thick surface that is weatherproof and can withstand any adverse weather conditions.
The fact that the table comes with ground levelers provides an excellent viewpoint from the table surface and provides extra stability to the entire architecture.
With six balancing points, including the rolling wheels, gives the structure the overall stability it requires.
Cost
Here comes probably the only negative point there is for this table, its price. On Amazon, you can get this under $1500
But even this is justifiable when you're getting a professional tournament-level table that comes with a lot of side perks apart from being weatherproof to any adverse conditions.
Bottom Line
We would highly recommend the Kettler outdoor classic 10 for young and budding professional table tennis players or for ping pong enthusiasts who would like to feel the proper ping pong playing experience.
From supporting an aluminum top for extra speed and bounce to having ground levelers that support the overall structure, the Kettler classic outdoor 10 is a well-built and nifty ping pong table that definitely deserves the love it gets.
4. Cornilleau 500m Crossover
Pros
2 color options
Good movability
7 mm thick top
Weather resistant top
Cons
Long assembly time
Heavy to move around
Extremely pricey
Features
If a ping pong table has durability for outdoor weather conditions, you already know it will perform well for indoor games. And that is precisely what the Cornilleau 500m Crossover provides to you.
To start off, the Cornilleau 500m is built with a 7mm thick laminate surface that is layered with a glare-reducing coating. This not only increases ball visibility as it bounces off the table, but it also provides a shield against different weather conditions.
Most table tennis players would appreciate this feature since it improves the quality of the game.
Adding to the table's weatherproof features, the table also has four 8″ wheels that make moving a lot easier.
You can imagine how a big body would be difficult to move if it had small wheels to carry it from place to place. Thanks to its wheel size, the Conilleau 500m can move on rough and harsh terrains without an issue.
As you would expect from a premium outdoor model, it folds smoothly and quickly. Initial assembly can be a pain, but once set up, it's a joy to play on and can easily be folded away.
The table makes no hassle in opening and closing smoothly, as is expected from a premium level ping pong table with a high price value. Portability is one of its most comfortable features.
Durability
We've already talked about the table surface being covered in the glare-reducing coating, which not only helps to see the ball better but also protects the table from adverse weather conditions.
This, coupled with the durable galvanized steel frame, gives the structure overall stability and strength, which raises its status to a professional quality table.
Apart from the stiff frame, the Cornilleua 510m also has weatherproof legs, which again is an environmental-proof feature that also helps durability. You don't have to worry about corrosion eating away at the metal legs of the table.
Cost
Just like our previous model Kettler outdoor classic 10, the Cornilleau 510m is a premium professional quality ping pong table. Hence it has a price tag of above $1000 and rightly so.
The price is justified since you're getting a table that is weatherproof, durable, and designed to enhance your playing experience with its glare-reducing coating.
Bottom Line
This model is the new and updated version presented by Cornilleau, which means you'll be getting modified and better-equipped designs.
Speaking strictly, the Cornilleau 510m is an extremely well-built ping pong table with proper weather protection that makes it durable and long-lasting.
The coating on the surfaces increases game quality by reducing glare and adds a good bounce to the ball, making every short worth it! It is important not to compare this table with specifically in-built models with thick surfaces that are designed to give the perfect bounce.
This table is excellent for standard recreational matches, and so is recommended if you're looking for precisely that.
However, if you're someone who's an aspiring table tennis player and have already spent some time honing your skills, then the better option is the Kettler outdoor classic 10.
5. Cornilleau Outdoor Table
Pros
Attractive black table top
10-year warranty
Resin laminate finish
One hand opening and closing system
Being released back in January of 2019, the Black code possesses a similar body and design as the Cornilleua 300s. Since this is one of the top models, well compare it with the Killerspin Blackstorm tables.
Right of the bat, the first feature where the Cornilleau beats the Killerspin tables is that it lasts longer, with a warranty of 10-year vs. a warranty of 1 year with the Killerspin tables. The black code has a melamine board with a resin laminate finishing that provides next-level stability.
Talking about the tabletop, the 5mm resin laminate helps provide a consistent and proper ball bounce and is weatherproof.
The dense and hard surface will give you the closest experience of playing indoors. The tabletop is covered with a Matt finish coating, which provides an excellent bounce and helps in protection against rain, sun, snow, or whatever weather conditions it faces.
Overall, the playing experience is extremely satisfying as there are a consistent and reliable bounce and speed with a minimum glare in the sun. This improves the focus and hence the playing experience.
For the price range, the Black code is superior to its cousin the Kettler champ 5.0, and the other Killerspin outdoor tables.
During the assembly phase, you might have to spend some time constructing the table. Maybe this is a feature some users might find tiresome and not consumer-friendly.
The assembly takes about 1 hour and 30 minutes if you take help from the internet. Make sure you follow an assembly tutorial that provides step-by-step guidance since a poorly or partially constructed table will only hinder your playing experience.
Alongside other features, the folding system is quite easy and safe; it is specifically designed to avoid any injury, especially when young kids are near and running.
The central release handle lets you open and closes the table with one hand, so storing and moving the table is made a lot easier for the users.
The corner protection padding is another safety feature that ensures your young ones don't run face-first into the corner.
Durability
Coming in with a weight of 145 pounds or around 66 Kgs, the Black code is lighter than its cousins, the Cornilleau 400M and 500M.
However, it is still firm enough to handle outdoor environments and playing conditions properly. The net system is constructed in a way to handle elements and provides both net and tension adjustments and will fold when the entire table is closed or stored up.
Not only this, but the stability and durability are also further enhanced by adjustable foot pads that can be maneuvered when playing on grass, decks, or other terrains.
The 1.5-inch steel frame is galvanized so that it won't lay victim to any type of corrosion and would stand firm against any and all adverse weather conditions.
Price
Like all the other high-end tables we've discussed. The issue, if any, with the Cornilleau is its price.
With a price tag of above $1000, some people might feel hesitant in buying the table.
The price is justifiable because it provides such a vast array of features. The 10-year warranty is reason enough to stand by such a price, but some features help against adverse weather conditions as well.
Bottom Line
As we've already discussed, there is an array of excellent quality features, and there isn't much to say against the Black code, except maybe the price. But we've already decided that the price is justifiable for the quality of the product being offered.
If we were to get super-critical and point out one flaw, it'd probably be that the table surface is a bit thicker than 5 mm, but even that is covered with other Cornilleau tables, so this isn't a valid critique.
6. RS Barcelona Folding table
CHAOFAN 36 Spins Ping Pong Ball Machine...
Large capacity, it will accommodate...
Easy to install and used,We provide...
New table tennis serving machine to...
According to your own preferences,...
Best machine for tranning and have fun...
Pros
Comes in 2 colors
High pressure laminate top
Cons
Extremely expensive
Thin table top
Glare issues with white colored table.
Right of the bat, the RS Barcelona hits you with a price tag that's going to make your wallet sweat, and for a good reason. RS Barcelona is pushing the absolute limits when it comes to creating outdoor tables.
First of all, the design is neat and crisp, a style not seen in many average day-to-day ping pong tables. Whether you're playing on this beauty at home or at the office, you're assured of getting both performance and functionality hand in hand.
The color option is also something to be in awe of as the only other black tops are from either Killerspin tables or the Cornilleau Black code.
The composite used for the RS Barcelona outdoor folding table is a high-pressure laminate that is much better than the plastic aluminum composite used by Killerspin.
The high-pressure laminate top is fit for both indoor and outdoor usage. It is essential to notice that many wineries in the US have purchased this table for their properties so that the guests can enjoy their wine tasting while having a fun time with one of the best ping pong tables out right now.
The surface is suitable for average recreational ping pong players, and the table offers a decent bounce with a consistent speed.
Having said that, the white-colored option table gets a bit daunting when playing in the sun as the glare distracts you from the game. The black-colored top is a better option, but keeping a blacktop clean is difficult.
Related Resource: Speaking of cleaning, you should always keep your table clean so as to increase its durability and life. In this regard, our review of the 5 best Table Tennis Cleaners may come in handy.
Because of this, we'd give the tabletop and the entire playability feature a rating of 4.5 out of 5.
Probably the best feature with the RS Barcelona ping pong table is that it comes already assembled. No, not "almost" assembled, as we've seen with some of the earlier mentioned tables.
The RS Barcelona outdoor table comes in with full assemblage to get started with your playing and not waste time in construction.
You'll just have to take the table out of the box, fold down the legs, attach the net, and you're good to go!
Durability
With a weight of 265 pounds or 120 Kgs, the table is well built and stable. The frame design uses both steel and iroko wood to help in all types of adverse weather conditions.
The high-pressure laminate makes the table surface evenly horizontal and would provide an excellent playing experience for the average ping pong enthusiasts at your house or among your friends.
An extra level of stability is provided through levelers, which ensure that your table surface remains equally horizontal on all sides. Regardless of the level of the ground, the table is set upon.
The frame is easily foldable, so portability is made easy, and you can even put the table in playback position for some personal practice games.
Price
Here comes the table's biggest con, the table is priced at around $5000, and to a healthy majority of people, this price range is simply out of the question. But why exactly is the price range so high?
RS Barcelona has introduced a new style to ping pong tables that were never seen or heard before. With its very own high-pressure lamination coating and the use of high-quality iroko wood and aluminum to provide sturdiness and stability to the frame, the RS Barcelona outdoor table is simply an excellent built table.
Maybe these points are reasons enough to justify the high price tag.
Bottom Line
Personally speaking, we will not recommend this table for two simple reasons.
The tabletop isn't thick enough to provide a professional-level playing experience, which could justify the price. Another issue is glaring for the white color coated tabletop, which would cause distraction during the daytime.
Many tables provide similar features for weather protection and durability but at a much lower price value. Even if we take the no assemblage required fact into consideration, it still does not justify the behemoth price value for the table.
As mentioned earlier, this table is being bought by many wineries across the US. Maybe that is the target audience for RS Barcelona, attracting major wineries and other similar properties through their unique table designs.
7. Kettler Top Star
Kettler Stockholm GT...
3/4" wood top with medium density...
Patented Safety-Fold with Dual Lock...
Space saver technology for compact...
All outer edges are protected and...
Net and durable resin net-posts remain...
Pros
Very affordable
Quality build
Good bounce
Cons
No floor levelers
Net is attached to the table
Thin table top
This is our second Kettler table in our top 8 list; the Kettler Top Star XL Outdoor table screams affordability with a good recreational time.
Since not everyone can afford higher-end ping pong tables like the Cornilleau 500M, so this is the table specifically designed to cater to such customers. At a price tag of around $800, the table is affordable for most families, and it will run a long time too.
We say this because Kettler tables are German-made, so the quality takes the highest priority in the manufacturing process.
Customer reviews suggest that even after being at a lower price range, the Kettler Top Star XL outdoor table provides speed and bounce that is near similar to an indoor table.
What we're trying to say is that this table is a lot better than many other outdoor tables in this regard.
Aside from the shiny top looking aesthetically appealing, the Kettler Top XL tabletop is covered with water-based paint and a topcoat, which is UV, fade, and scratch-resistant. Aside from being scratchproof, the table surface is weatherproof and will significantly handle different climate conditions like rain or extreme hot and cold weather.
You don't have to worry about it. The tournament lines are precise, clean, and smooth, with the ball bounce being just right. Having said that, some topspin shots are still better on the higher-end tables, but of course, those will cost more money.
The dual safety mechanism will prevent the table from suddenly opening and closing.
This is an in-built feature with all of the Kettler tables, and it ensures that you don't get injured due to an accidental opening or closing of the ping pong table.
However, unlike many other Cornilleau tables, this does not have border padding, which means you need to be cautious when children are running around the table.
Durability
Talking about durability and stability, the Topstar XL table has an almost 8″ thick tabletop that comes with an ALU-TEC underside with climate technology.
The 1.5-inch aluminum apron of the Topstar XL is better than the 1 inch offered by the Match 5.0. In short, the tabletop is smooth, anti-reflective, weatherproof, and durable.
However, there is a place where the table lacks, and that is the ability to use floor levelers on uneven grounds.
This will not only give you trouble during the game but will also damage the balance of the table. Inevitably, it will damage the table's legs.
The net remains attached to the table at all times, so it will remain even during storage or closing the table. Apart from this, if you're looking to raise or lower the net, you can see videos on the internet regarding this.
Basically, you will see a plastic piece that attaches to the net's side with groves; this will enable you to raise or lower the net.
Cost
The price tag is more than reasonable for the Topstar XL table. With a water finished surface that is heat and UV resistant, you also get a decent bounce, and with the 5.5-inch wheels, the table is portable.
Bottom Line
For the price tag, the table is highly recommended, as Cornilleua makes it for mass consumption.
The table is very affordable for general households and would provide an excellent recreational activity for breaks or just a fun time.
Now, of course, you don't get everything with this table, and that is linked to its price.
It is common sense that if you spend more money, you'll get a better product, so don't buy this with the expectations of a $2000 table.
Be patient with the assembly since it takes around 2 hours (if you're doing it right) to assemble the structure completely.
For guidance, watch any YouTube tutorial for setting up the table, but make sure the explanation is done step by step.
Overall, features ranging from weather protection to giving a decent bounce during play and also being portable are enough reasons to buy this table for your office or home.
8. Killerspin MYT7 Storm
Killerspin MyT7 BlackStorm Foldable...
OUTDOOR PING PONG TABLE: Table will...
STORAGE FOR PADDLES AND BALLS: Store up...
SOLO PLAYBACK MODE: Fold up one side of...
DURABLE TOP: Quality aluminum-plastic...
PERFECT SIZE: Measuring 9' x 5', this...
Pros
All black design
Waterproof table top
Quick setup
Racket holder & ball pocket.
Cons
Net has to be setup every time
Thin table top of 4mm
The Killerspin MyT7 instantly catches your attention with its unique design that was created specifically for outdoor play.
Coming in at a price of around $1000, this all-black beauty will definitely be a good fit for your family.
The table is also warp-proof, meaning you can leave the table outside years round, and it won't have an effect on the surface.
Due to the advancements in technology, we've seen ping pong tables evolve from only being playing indoors because of the delicate material used for construction to now being played anywhere from schoolyards to wineries and backyards.
This table is a tough one and equally challenges other competitors like the Cornilleau 250S and the Cornilleau black code.
Coming on to the tabletop features, the MyT7 has a 4mm tabletop made from a composite of aluminum and plastic. You can already guess that this will not provide the perfect ball bounce, but nonetheless, it will give a decent one, along with protection against different weather conditions.
If we were to make a quick comparison, the MyT10 has a 6mm tabletop and does provide a better bounce; however, this does not mean the playing experience on the MyT7 will be bad.
You will still catch attention from neighbors when you're playing on this black beauty.
Other than Killerspin, there is not a single brand out there that lets you assemble the table with such swiftness and ease. This means that as soon as your table is supplied, you can set it up in around 15 minutes and start playing, compare this to the 2 hours + assembly time on some of the tables we've discussed already.
However, the net is what holds the two halves of the table together. If you were top close and store the table, you'd have to undo and then redo the net assembly all over again; you don't face this problem with tables from other brands like Cornilleua and Kettler.
Other than that, the table also has a racket holder and ball storage space, which are neat little features to add to a ping pong table.
Durability
Talking about the durability and stability of the Killerspin MyT7, the table has its top covered with an aluminum and plastic composite that makes heat UV resistant.
Essentially, you won't have to worry about warps or other weather-influenced damages. The table also includes a weatherproof net, which means you can leave the net on and not worry about the fabric getting destroyed.
The Killerspin MyT7 also includes floor levelers, which means if you're not playing on level ground, you can adjust the height from one side to get a completely horizontal tabletop.
Cost
As noted above, this beautiful ping pong table is priced at around $1000. In this price range, most families can afford it and add it to their backyard for a family fun time during Christmas or other holidays when the extended family comes to visit.
The tabletop is UV resistant, and you also get a weatherproof net.
Apart from this, Killerspin is known for its unique and state-of-the-art designs that look not only smooth but also feel smooth. You also get the racket holders and the ball pockets, two nifty features to your table tennis table.
Bottom Line
If we look at the disadvantages, the first thing that pops up is the 4mm tabletop, which, although provides a decent bounce but could've been a bit thicker to improve the playing experience.
The other drawback that comes to mind is the net assembly. The overall assembly time for the table is only 15 minutes, but every time you store the table, you have to undo the net and then redo it. So, the assembly time for the table and the net even out.
Another issue is that it only provides a warranty of just one year vs. ten years for the Cornilleua tables. Aside from these issues, the table has it all, one hell of a design packed with nifty little features of the ball and racket holders.
You get UV and weatherproof tabletop and net, which means you don't have to worry about warping or any other damage.
These features make the MyT7 a must-have for your home or office to chill out and enjoy during breaks or to get the blood circulating again, do keep in mind though that this recommendation is not for pro players or budding table tennis enthusiasts since the tabletop of 4mm alone is reason enough not to buy it.
---