Do you want to purchase a Foosball table but aren't sure whether it will fit in the space you have? Don't worry! Like all good things, Foosball Tables come in multiple sizes.
From ginormous to mini and every size in between, Foosball table size comes in several variation. Whether you have a big game room in your basement or a small space in your up-town apartment, you can purchase a Foosball table to suit your space.
In this article, I am going to discuss the dimension of recreational Foosball tables. Recreational tables are specifically made for home-owners and amateur players. I am also going to discuss the size of Foosball tables for teens and kids. Finally, I am going to wow you with some foosball dimensions which have made Guinness World Records.
If you are in a Hurry, here are the three  most popular sizes along with suitable room sizes:
| | | | |
| --- | --- | --- | --- |
| | 56-Inch Tables | 48-Inch Tables | Mini Tables |
| Table Dimensions  | 56 x 30 x 36 | 48 x 24 x 31 | 40 x 20 x 8 |
| Room Size  | At least 9 × 6 feet | At least 8.5 × 5.5 feet | It will fit on any surface like a dining table |
Let's discuss in details starting with common size tables.
1. Regulation or Tournament Size Table
The International Table Soccer Federation, The United States Table Soccer Organization, and other official Foosball authorities consider 56 Inches (L) x 30 Inches (W) x 36 Inches (H) as the official Foosball table dimension. A foosball table of this dimension is used in the official league tournaments and matches.
The regulation-sized table is fairly big, almost 4.7 feet long and 3 foot wide. This table is nearly as big as your dining table, but it requires even more space.
You see, apart from the physical size of the table, you have to leave 16 -18 inches for the rods and then at least 2-3 feet more so that the players can move and use the rods easily. If you have a 4.7 feet long table, which is 3 feet wide, you will need to have a room space that is at least 8 feet long and 5.5 feet wide.
Recreational centers, Bars, Gaming Clubs, and Gym rooms typically have standard size foosball tables. However, it is quite common in homes too. Many home-owners choose to make these beautiful tables the centerpiece of their living room. Others may keep them in the basement or the backyard patio. I know some guys who have their table set up in their garage.
Apart from the length and width, some crucial dimensions of the Foosball table are given below. Remember, I have listed the average dimensions here; these dimensions are subject to variation as per the make and brand of the Foosball table.
Average Dimensions of the 56-Inch Table
Length
56 Inch
Width
30 Inch
Height
36 Inch
Size of the Play Field
48 ×27 in
Depth of the Play Field
4.25 Inch
Space between the Rods
6 Inch
Weight
200 Lbs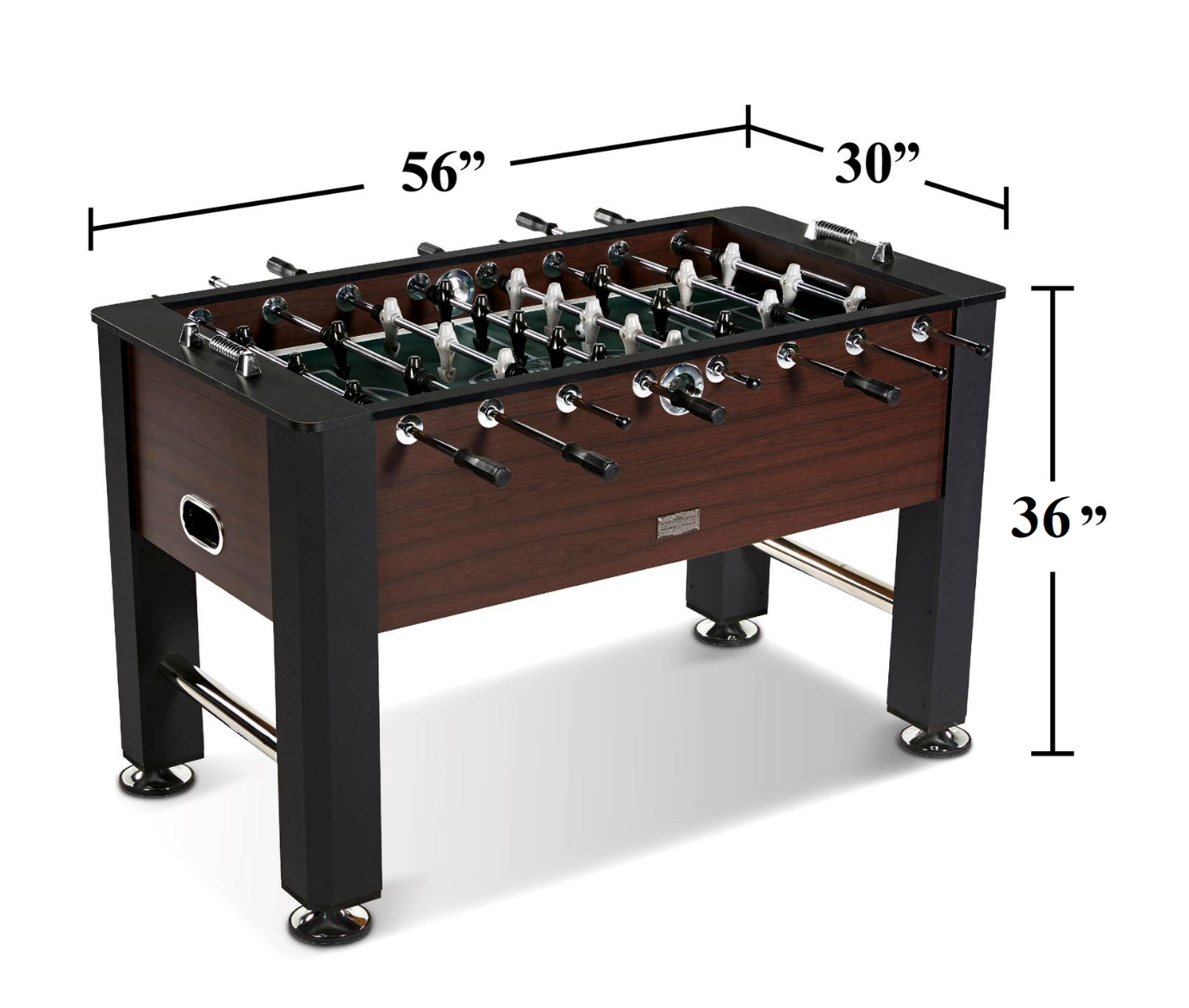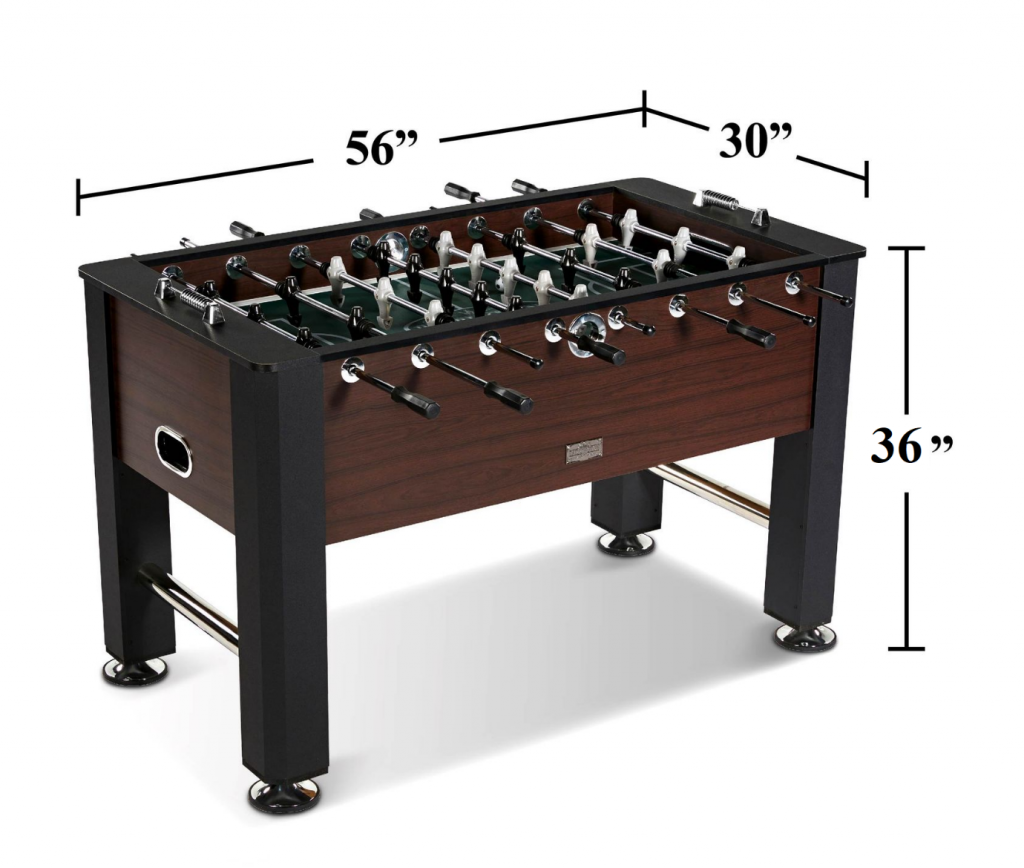 The depth of the playing surface and the weight of the Foosball table are indicative of high-quality Foosball tables. A thicker playing surface enables you to play a faster game. On the other hand, a heavier table means that your table won't move or shake when you are playing on it. Both characteristics add to a smoother playing experience, and you should keep them in mind when selecting a Foosball table.
If you have the space and you are a frequent player, I would recommend that you buy a tournament sized table because of the PROS it offers.
Just like every coin has two sides, there is a flip side to full-sized tables as listed in CONS.
PROS
A full-sized table is more challenging than smaller sizes. It will challenge you to play better every time, which will enhance your skills.
If you decide to participate for a league game, you will be able to transition easily
More challenging means more fun!
CONS
It takes up too much space
It requires more skill
It can be difficult to assemble without professional help
Despite the challenges, full-sized Foosball tables remain popular with amateur foosball players looking to enhance their skills or enjoy an entertaining game with their friends.
The most popular 56" Foosball Tables are:
For a detailed analysis of each table, read The Best Foosball Tables.
2. 52 – 55 Inch Foosball Tables
Apart from the 56-Inch Table, large Foosball tables are available in 60, 58, 55, 54, and 52 Inch variations as well. The 52-Inch variety is the most common among these tables. Many famous American Foosball Brands like Tornado, Hathaway, and KICK make tables in these sizes.
Although there are only a few inches of differences between each table, it can make a lot of difference if you have limited space. A few inches can give you the space you need to work the rods and play the game easily.
Apart from the length, the width, playing surface area, and depth of the playing surface varies from table to table.
A list of possible variations is given below:
Dimensions of 52 – 56 Inch Tables
Width
34 Inches to 26 Inches and every size in between
Size of Playing Field
48" x 27" to – 46" x 24
Depth of Playing Field
1 Inch to 5 Inch
3. 48 Inch Foosball Tables
The 48-Inch table is another popular size; so many best-seller Foosball tables come in this size. The Best Choice Products most selling table is a 48 Inch table, The Hathaway Playoff is also 4 feet (48-inch) long, along with KICK Monarch.
Many Foosball enthusiasts find the 4 feet (48 inches) Foosball tables to be the most ideal size. These tables are big enough for the game to remain challenging and yet small enough to fit comfortably in most homes. The 48 Inch table is most popular among bachelors who are living in shared accommodation or small apartments. It is also very popular for grandparents looking to purchase their grandchildren a Christmas gift. Some couples also keep these smaller tables in their vacation homes.
The most common dimensions of the 48 Inch table are:
Average Dimensions of the 56-Inch Table
Length
48 Inch
Width
24 Inch
Height
31 Inch
Size of the Play Field
41 ×23
Depth of the Play Field
3 Inch
Space between the Rods
6 Inch
Weight
110 -130 Lbs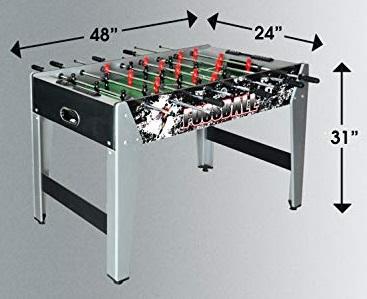 The Hathaway Avalanche, KICK Conquest, Hathaway Allure, and Goplus 48 Inch Table are manufactured in these specifications.
However, many different variations are available, some of the popular ones are: 48″ x 24″ x 33″ and 48" x 25.5" x 31".
I will recommend the 48 Inch Foosball Table if you want to have a Foosball of your own but don't have the space for a full-sized one. It also makes a great and impressive gift.
Let's look at the pros of this table size & Although the 48-inch table offers many advantages, there are some disadvantages too:
PROS
Instead of going to the bar or rec room, you can play Foosball at home any time you want.
You can improve your skill and learn new foosball techniques
You can practice any time you want
You can host Foosball matches at your home, increasing entertainment factor of family and friend hangouts
You can unwind and unplug with a great group activity
CONS
It is not a regulation size table. If you want to join the league, you will have to practice at a bigger table. The skill and technique required for smaller tables are different.
Apart from this one hiccup, I personally don't find anything wrong with 48-inch tables. I think that they make a great addition to any home. They can easily fit into small rooms and even balconies. Foosball lovers who live in smaller spaces shouldn't have to go to the rec center every time they want to play Foosball. A 48 Incher in your own home is a much better option!
If you are interested in learning some cool Foosball techniques, check out the German Foosball champion's video below:
Some popular 48 Inch Foosball tables are:
4. Mini Foosball Tables
Whether 56-Inch or 48-Inch-long, Foosball tables certainly take up a lot of space. Large tables are big and hard to assemble. Not everyone has a specific place for Foosball tables in their homes.
Mini Foosball tables or Tabletop Foosball tables are a pretty good solution. As the name implies, these Foosball tables can be affixed on any playing surface such as the dining table, work table, or even kitchen counter.
You can think of Mini Foosball tables as the cabinet without the legs. Mini tables are smaller in size, and so they are easier to carry. Furthermore, they are portable; you can put the Foosball in the car and take it with you to a picnic or a vacation home or a trip to your grandparent's house.
Another advantage is that mini foosball tables are easier to assemble than large tables. In mini foosball tables, you only have to fix the rods. Whereas, in larger tables, you have to assemble the cabinet, attach the legs, fix the players, and the rods.
Just like larger tables, Tabletop Foosball tables come in various sizes. The most popular size dimensions of Mini Foosball tables are: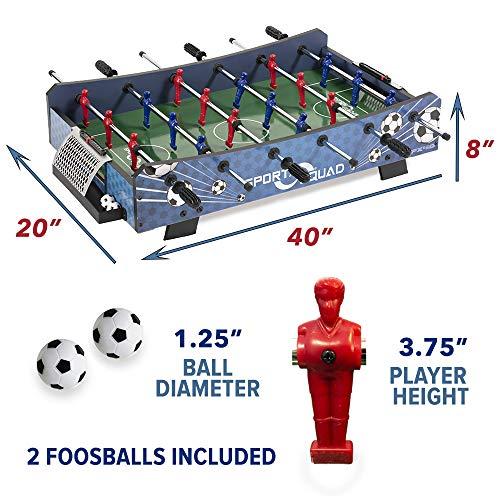 Average Dimensions of the 56-Inch Table
Length
40 Inch
Width
20 Inch
Height
8 Inch
Size of the Play Field
38 × 18
Depth of the Play Field
4.25 Inch
Weight
15 Lbs
While these are the standard dimensions, you can find mini foosball tables from 17 inches to 40-inches long with every variation in between.
Let's look at the Pros and Cons of Mini Foosball tables:
PROS
Easy to carry
Easy to assemble
Don't take much space
Portable
CONS
Very lightweight
Not appropriate for adults
Not durable
I think that Mini Foosball tables are a great option for children. If you have kids aged 5+, then you should buy them a Mini Foosball table, it will make a great birthday or Christmas gift. You will engage your child in an interesting game, and you will get them away from screen time as well!
Some Popular Mini Foosball tables are:
Sport Squad FX40
Rally and Roar Foosball Tabletop
Portzon Foosball Table
For a detailed analysis of each table, read The Best Mini Foosball Tables.**
Big Vs. Small Foosball Tables
Can't decide whether to buy a big or small table? Here is a comparison to help you make your mind: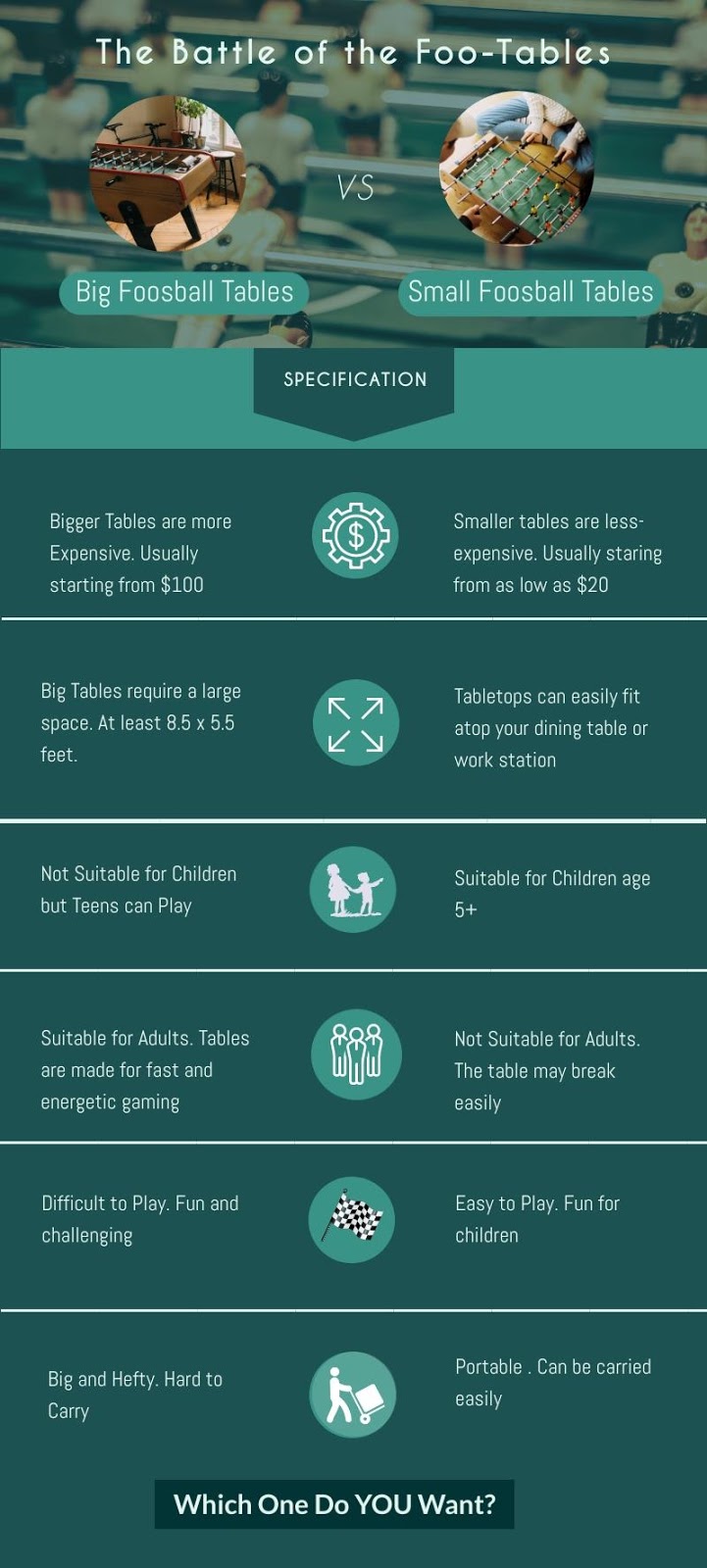 How to Measure Room for Foosball Table?
Before purchasing a Foosball table, it is essential to measure the space that is going to house the Foosball. I suggest that you take a measuring tape and measure the length and width of your room accurately. Some people try to guestimate, and it often doesn't work. It is better to be safe than sorry.
Another important thing to consider is the height of your room. If you are thinking of placing the table in a low-ceiling room such as the attic, measure the height from floor to ceiling to make sure that the table will fit easily. Remember, you also have to make sure that people can stand in the room and play comfortably.
Another important consideration is the doorway; big tables won't fit in most doorways, so make sure that you take the table inside the room before assembling it. Once the table is assembled, make sure that you get help when moving it into position. If you try to drag the table into place, it may scratch your floor.
The following table will tell you how big your room should be to accommodate each table size:
| | | |
| --- | --- | --- |
| Foosball Table | Foosball Table Dimensions | Room Size |
| Regulation Size  | 56 x 30 x 36 Inch (4.7 x 2.5 feet) | At least 9 × 6 feet |
| 52-Inch Table | 52 x 28 x 34 Inch (4.34 x 2.34 feet) | At least 8.5 × 5.5 feet |
| 48-Inch Table  | 48 x 24 x 31 Inch (4 x 2 feet) | At least 6.5 × 4.5 feet |
Mini Foosball tables can be accommodated easily; you can put them on top of your dining table or work table.
Guinness World Record
The Longest Foosball Table in the World
Very recently, on September 27, 2019, a Chinese Sports Facility by the name of Jiujiang Jiuxing Sports Facility Co., Ltd. Made 451 feet long and 2.5 feet wide Foosball table.
Just to give you an idea of its size, you can fit 8 56-Inch Foosball Tables into this one table!
The Chinese sports company made this humungous Foosball Table for the opening ceremony of Table Soccer Championship in China. I wish I was at that ceremony, don't you?
While that table is not up for sale, you can purchase traditional sized Foosball tables with ease. We recently reviewed The Best Foosball Tables Of 2019; you should give it a read before purchasing a Foosball table. It is a complete guide on purchasing the best Foosball tables on the market; it will save you time, money, and effort!
FAQs About Foosball Table Dimensions
How tall is a foosball table?
A regulation or tournament size foosball table is 36 inches or 3 feet high. However, height can vary for other types of foosball tables. For instance the 48-inche foosball table may have a height of 31 inches or 2.58 feet.
Final Thoughts
Foosball is a classic entertainment; it brings together friends and family for a fun-filled activity. Whether you want to improve your Foos skills or whether you want to spend some quality time with your children, a Foosball table will be a wonderful addition to your home.
You may be thinking that the Foosball table you saw in your local bar or country club is too big to fit in your home. Don't worry! Luckily, Foosball tables are available in many sizes. I can guarantee that you can find a foosball table which will be a perfect fit for your game room.
Before making a purchase, take a measuring tape and measure the length and width of your room and then start hunting for tables. A rule of thumb is to account for the length and width of the Foosball table and add 3 feet to it. This way, you will leave enough room for the rods and for players to move and groove.
The dimensions we have provided will help you quickly identify whether your room is big enough for the table size you want or not!
I hope this article has been helpful. Let us know in the comments below!