Known as America's national past-time, Baseball is the second most popular sport in the United States of America. Baseball is ingrained in the American culture; whether it is major leagues, little league, or PeeWee leagues, Baseball is indeed the favorite past-time of all Americans.
Apart from being an incredibly fun past-time, Baseball can also be pursued as a serious career. Almost all colleges in the USA offer baseball scholarships, which can be availed by outstanding performers. Are you interested in securing such a scholarship? Or are you an amateur club player who wants to impress his friends? Or maybe you are a dad who is teaching Baseball to his kids.
Whatever the case, this baseball pitching net guide is for you. IndoorChampions has reviewed the best pitching nets available on the market and brings you the chosen five. We review the pitching nets on material quality, ease-of-use, portability, versatility, and warranty.
Here are Best Pitching Nets In Market
1. Powernet DLX Net
| | | |
| --- | --- | --- |
| Specifications | Quality Grade | Description |
| Net Material | A+ | Braided and Knotless Nylon mesh |
| Poles/Rods Material | A+ | Steel and fiberglass poles |
| Ease of Use | A+ | 2m assembly, no tools are required. Comes with clear & simple setup instructions and a canvas carry bag |
| Versatility | A | It is great for pitching & batting practice. |
| Portability | A+ | The net is very compact when collapsed. All the pieces fit inside the carry bag that comes with the net. It is easy to carry & transport. |
| Warranty | A+ | Lifetime warranty |
Expert craftsmanship & Durability at an unbelievably affordable price is the most apt definition for the DLX 7×7 net by Powernet. It is a superhero among pitching nets; it is a premium product in budget-friendly packaging. Let's look at its key features:
The DLX net comes with a Strike Zone attachment, 3 weighted training balls, and a spacious canvas carry bag. Right off the bat, the DLX offers more value than its competitors because it provides additional products at the same price. The Strike Zone attachment is incredibly helpful for beginners and intermediate players to help them improve their aim.
We found that the DLX was extremely easy and quick to assemble; it took us less than five minutes to set up the net and even less to de-assemble it. Clear instructions are provided in the instruction manual, which makes setting the net as easy as 1, 2 & 3.
Another fantastic feature is the sturdiness of the poles; you may not be able to guess it from the picture, but the poles are made of heavy-grade steel & fiberglass. The stand of the net is especially sturdy; it won't move, sway or tilt while you are practicing, unlike cheap alternatives. If you are practicing soft toss and tee hitting etc. then you won't need to worry at all. However, in case of fast pitching & hitting practice, you may need to add some weight to the legs to keep it stationary.
We found the net to be perfect for indoor and outdoor use. The DLX comes with stakes that can be inserted into the soft outdoor ground for further stability. Overall, it is an excellent net that will perform as its meant to.
2. MLB® Flex Pro Net
| | | |
| --- | --- | --- |
| Specifications | Quality Grade | Description |
| Net Material | A | Knotted nylon mesh treated for all-weather protection. Safe for indoors and outdoors use. |
| Poles/Rods Material | A+ | Fiberglass flex-post |
| Ease of Use | A | Quikset® design sets up in under 15 minutes. It comes with a clear instruction manual, easy to assemble and carry. |
| Versatility | B | Suitable for pitching & hitting |
| Portability | A | Compact and easily carriable in complimentary bag |
| Warranty | B | Limited brand warranty |
Franklin Sports is an old name in the world of Baseball; the MLB® Flex Pro-Net reflects their extensive knowledge and innovative expertise. The most notable thing about the MLB net is the patented Franklin Sports Quickset® design. With this innovative design, the net can be assembled and de-assembled within minutes! We found that the instructions were easy to follow, and the assembly was very quick.
Secondly, the material of the net is amazing; the net is a 30-ply weather-treated mesh that will not wear down easily, even in the harshest weather conditions. The frame is also very well constructed; it is sturdy and keeps the net stable during fast-paced batting or pitching practice. The Poles of the net are made from high-grade, flexible fiberglass; flexibility means that the net is able to absorb the shock of impact. When fast-paced balls hit the net, the poles have fewer chances of breaking down because they are flexible.
The MLB net is a multi-position and versatile net that can be used for various pitching positions and batting practices. Franklin Sports offers a limited warranty, which you can claim in case of damaged parts.
3. Rukket Sports Original Sock It! Pitching Net
| | | |
| --- | --- | --- |
| Specification | Quality Grade | Description |
| Net Material | A | 7-PLY knotless 1.75-inch netting |
| Poles/Rods Material | A + | Flexible fiberglass frame + 1-inch steel rods |
| Ease of Use | A+ | Fold-up design; set up the net within minutes |
| Versatility | A | Suitable for Pitching and Batting |
| Portability | A+ | Extremely compact & lightweight. Folds down into a small package in a complimentary bag. |
| Warranty | A+ | Rukket 100% Lifetime Warranty |
If you want a tournament-grade versatile pitching net at a very economical price, then look no further than the Rukket Sock it! Pitching net. The Rukket 7×7 pitching net is amazing for several reasons; firstly, they are sturdy and well-constructed. It is no surprise that they are one of the most popular pitching nets sold on online retail sites. Although the mesh is knotless, it is quite sturdy and reliable. It can withstand fast pitches and will last you for a long time.
We were also impressed by its user-friendly design and assembly time; we set it up quickly, and it was ready to go. It has a fold-up design, which means that you don't have to worry about fixing pieces. It is extremely easy and straightforward.
The versatility of the net is also impressive; it is suitable for different pitching angles and hitting positions. You can practice from different angles while using this net, and it increases the value of money.
We are also impressed by the customer support and after-sale services that Rukket offers; it is quick to exchange damaged parts, make refunds, and guarantee customer satisfaction at every step. The lifetime warranty of the net is very encouraging.
On the other hand, don't expect the quality of the net and construction to be on par with a much expensive net. The quality is amazing for the price, but obviously, it cannot be compared to premium nets.
4. Bownet Big Mouth Pro
| | | |
| --- | --- | --- |
| Specifications | Quality Grade | Description |
| Net Material | A+ | 30 ply net treated for weather conditions |
| Poles/Rods Material | A+ | It has a BMX® FRAME and Powder-coated steel 7-foot by 7-foot. |
| Ease of Use | A+ | It can be set up in 60 seconds! |
| Versatility | A+ | Great for pitching & batting from different angles. |
| Portability | A+ | Lightweight and easy to carry in a bag. |
| Warranty | A | One-year manufacturer's warranty. |
If you are willing to pay high bucks for innovative design, high-grade quality, and longevity, then the Bownet Big Mouth X is the pitching net of your dreams. Although more expensive than most competitors, the Bownet is a beautifully constructed and well-designed product.
We fell in love with several of its features; let's look at them one by one. Firstly, the BMX frame is unparalleled! We love the portable one-piece collapsible frame that can maintain its balance without a problem on grass or on concrete. Another incredible feature is that the bow frame has fewer parts than most nets; it decreases assembly time and increases the ease of use.
We also appreciated the attention to detail and incredibly expert craftsmanship of the frame; the rods, the net, the connectors, and the hinges are all made from high-grade material with beautiful finesse. Everything fits into each other perfectly for a stable and sturdy final product.
The carrying bag is also very robust, unlike cheap poly options of budget-friendly nets. The carry bag will last you as long as the net itself; it has good-sized strong handles and sturdy canvas construction.
Pitching Net 101: What to Consider When Purchasing A Baseball Pitching Net?
The quality of material used to manufacture a product is essential to its functionality & longevity. A product manufactured from high-quality materials will perform as desired and will last longer.
Most often, the price of a product is directly related to its quality; the higher the price, the better the quality. However, that is not always the case; most of the time, you can purchase a premium product for a reasonable price.
You just need to know what to look for, here are some tips: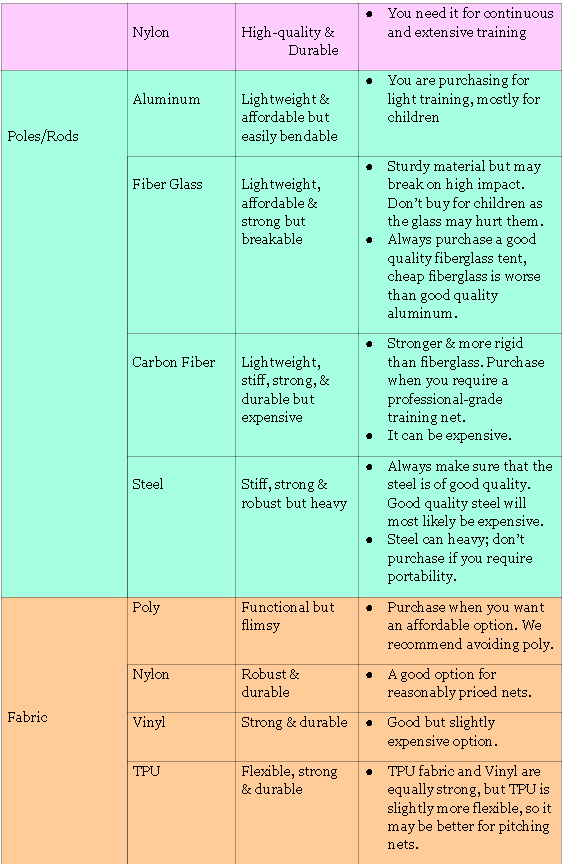 The second thing you should look for is the craftsmanship; how well has the pitching net been made? Sometimes, manufacturers use good-quality products, but they are not used in the best way.
Pay attention to the following:
How well is the frame constructed? Do the poles fit into adjoining parts? Are they comparable in quality?
Observe the stitching; is it neatly stitched? Is it double stitched? Can you see threads coming off already?
Look at the net: Is it braided? Is it knotted? Is it a hung square or diamond-shaped mesh? Braided is better than unbraided; knotted is better than knotless, and square hung shape is better than diamond-shaped mesh.
Well-known brands are often more experienced in creating well-crafted products since they have advanced research, extensive experience, and generally more resources than smaller companies. Furthermore, stay vary of knockoffs.
The pitching net you buy must be able to withstand an onslaught of ferocious throws. Check the weight and design of the tent to determine whether it will remain standing even when balls hit the net with speed. A net that topples over at the slightest touch is useless.
Nobody want to waste an hour assembling and then to disassemble the net each time they have to practice. Check to see how much time it takes to set up the pitching net; the less time, the better.
Look for the following things:
A manual with clear instructions
Simple design and easy construction
Clearly labeled parts that correspond to the manual
A good-quality pitching net does not come cheap; therefore, purchase a pitching net that can be used in multiple ways.
Consider the following:
Contemplate baseball angles; don't buy a pitching net that you can only use behind you. Purchase a pitching net with multiple angles so that you can practice in different positions.
Pitching Net Should accommodate different training options like throwing and hitting, among others.
Never underestimate the power of a portable pitching net; a portable net makes it extremely convenient to carry it from storage to baseball field and vice versa. Look for convenience; you will appreciate it afterward when you have to carry the net back and forth.
Look for pitching nets that are easily foldable and come in bags. You will appreciate them because they become compact and easy to carry.
Warranty & After-Sale Services
Prefer products which have a warranty over products which don't. A warranty means that you can replace your pitching net in case of damage. Some companies offer complete product warranty whereas others offer warranty for parts. Similarly, some may even refund you if you don't like their pitching net. A warranty gives you a little bit of extra security that your money won't be wasted.
Similarly, after-sale services are extremely useful because you will get the help you need for setting up the pitching net, getting replacement parts, asking queries, and much more. Usually, well-known brands offer after-sale services. Knockoffs or foreign brands may not be as supportive as local/national brands.
Wrapping it up!
Do you agree with our choice? Which pitching net have you been using? Share your views in the comment section below!