A game of Badminton cannot be played without a Badminton Net.
Located in the middle of the court, a Badminton Net is the physical barrier that divides a Badminton court into two even halves.
The objective of Badminton is to try and make the shuttlecock hit your opponent's side of the court to win a point. You can't achieve this objective unless you have a badminton net that that divides the court.
If you have top-of-the-line Badminton shoes and shuttlecocks, and you don't have perfect badminton net, it can make or break your game.
There are hundreds of options and you can get lost in the woods if you keep searching for perfect net you are looking for.
If you choose the wrong one, you are pretty much screwed, I spent a ton of hours researching and finding the best badminton net you can find anywhere online. Lets get's started.
Best Badminton Nets
In this article, we recommend the best Badminton nets of 2020. We analyzed and reviewed the badminton nets by top sporting companies such as Yonex, Lining, Victor, and more to finalize the most value-maximizing badminton nets for our readers.
Along with product recommendations, you can also read about the factors you should consider before purchasing a Badminton net. These tips will help you buy a net that is perfect for your gaming needs!
1. Macgregor Economy net
The MacGregor Gold Medal replacement net is one of the best in the market. It's feature rival those of professional replacement nets, but the price is very reasonable, which makes it a great value product.
Macgregor Economy Badminton Net
Knot-less nylon netting is dependable...
Vinyl-coated bands line the top, bottom...
0.25 in. polyester cable runs through...
Burgundy netting and white perimeter...
This competition quality net is made...
It is marketed as a recreational Badminton Net; it sports a ¾ inch knotted nylon 3MM braided cable, which reflects the strength and good quality of the mesh. The headband, the sides, and the bottom tapes are manufactured from PVC vinyl.
Right away, you can tell that the mesh is going to be strong;
it won't tear easily because it is made from a 3MM braided cable with a knotted design.
Knotted mesh is very durable and will last you for a long time. Similarly, the net will be able to weather environmental distress as it is made from nylon and vinyl.
This is just a standard net without a stand. If you are considering buying one. Make sure you either have your own stand. You can also can buy stand separately.
If you don't have any stand, keep on reading. I am going to review some other nets with stand etc.
The synthetic materials won't get damaged easily in rain or sunshine.
The headband is very sturdy with a proper grommet to attach ropes. However, the bottom and sides have been covered with a lower-quality vinyl to cut costs.
We fear that the bottom and sides may fray from edges with repetitive use. Additionally, there is no grommet on the bottom band, you may need to attach a rope to a loop to secure the bottom part.
Still, Macgregor Gold Medal recreational net is an amazing value for money products.
Macgregor Economy Badminton Net is Suitable For:
Players who already have a stand or Badminton posts but require a net. Players who want a reasonably priced but good quality badminton net.
2. Boulder Portable Net
The Boulder portable net is one of the most versatile nets on the market. You really get the most for your money because you can adjust this net to play volleyball, tennis, and something called pickleball!
Sale
Boulder Portable Badminton Net Set - for...
This versatile volleyball net set will...
If the family camping trip needs an ace,...
If you're a parent, time is always...
This robust soccer/tennis net is made...
With the holidays fast approaching, this...
The net is very affordable as well, you get an adjustable net with badminton poles for under 50 bucks.
Surprisingly, the quality doesn't suffer because of the price; the net is made of tear-resistant nylon mesh and painted durable steel.
The manufacturer has cut costs by compromising on certain factors; the mesh is larger than the recommended 1 inch, and the cable isn't braided or knotted.
The manufacturer compensates for these deductions by using good quality nylon and sturdy construction. Despite the drawbacks, the net is sturdy enough to last you a long time.
This is multipurpose net and can be used for all sort of other games like pitching. Even though, we do have a separate article for pitching nets but they are pretty much the same. You can use the same net for both games.
Another great feature is the portability of this net; everything is wrapped in a bag which you can carry easily to the beach, park, or your own backyard.
Additionally, you won't lose any parts because everything is connected with a bungee cord.
Another great feature is that it's easy to set-up. We found it super easy to assemble; we didn't even need to look at instructions as it was so simple and clear.
We did it in minutes, and we are positive you can too!
Finally, the Boulder portable net is available in three sizes, so they provide you a choice to choose a size that best suits your playing needs.
Do you have a small space, or maybe you need it just for your kids? Then go for the 10 feet net. On the other hand, if you often play doubles with your neighbors, then the 17 feet massive net makes more sense.
This is a cheaper option. If you don't want to spend a lot of money but still want to enjoy your game, this is the best option. It won't last long and maybe not suitable for travel or camping etc, which goes without saying.
One drawback we found is that the legs are not weighted; the net topples over easily, especially on the smooth ground like tile or concrete. You will definitely need to weigh it down with something to make it work.
Putting up a brick of something which is 3-4 kg weight would hold it tightly. They made this product to be cheaper and if they add more weight, it would cost you more. You better off, just figure it out yourself and i don't think it should be a deal-breaker for you.
The Boulder Portable Badminton Net is Suitable for:
Suitable for players who don't want to spend a fortune on portable nets. It is suitable for parents who want to purchase a net for their children and the whole family.
The larger size is ideal for adults, while the smaller sizes are great for children.
3. Park & Sun Badminton Net
The Park & Sun Badminton Net is another portable Badminton net option that's worth purchasing.
Unlike other nets we have reviewed, this set comes with 4 Badminton rackets and 4 shuttlecocks as well.
Park & Sun Sports Portable...
Telescopic, 3-piece aluminum poles...
Features a regulation size (21' L x 30"...
3/16" double guyline with tension rings...
Define your court with the 3/16"...
Includes 4 aluminum badminton rackets...
This is great for beginners and recreational players; they will just purchase this set, and they are ready to play Badminton.
The best thing about this set is the construction of the net and poles. We were thoroughly impressed by the quality of the material used to manufacture the net, the headband, the side and bottom trimmings, and the badminton poles.
The mesh is made from 1-inch wide knotted nylon cables, and it is secured by vinyl trimmings. No doubt, this net is sturdy and will last you a very long time.
It is perfect for outdoor play as the good quality material will weather all environmental impacts.
The Park & Sun net is marketed as a portable net; its set-up is a little unconventional because the stands don't go into the ground but rather a set of anchors.
The anchors are attached to ropes in a V formation, the anchors go into the ground, and a rope is pulled taut across them.
The rope is attached to the net pole; this way, the anchors keep the pole stable and immobile. While this method is great for stability, it does take some time to assemble.
Quick users report 15 minutes while others report between 30-45 minutes.
We believe that this net system is great as a permanent fixture rather than a portable option.
Park & Sun Badminton Net is Suitable For:
Players who play outdoors. It is an outdoor net that is attached with the help of anchors.
It is suitable for players who play in their own backyard; they can fix the anchors and then leave them in the ground to play next time.
Inserting and removing anchors takes time, and so it might not be a great portable option. If you want to buy a net for camping or travel, this isn't a good option.

Please keep on reading this article, there are lot of other options which you may consider if you need one for travel.
4. EastPoint Badminton Net
No Badminton Net review would be complete without EastPoint Sports portable Badminton net. This blockbuster badminton net has all the qualities of a great portable net; it is easy to assemble, it is easy to carry, and it is durable.
Sale
EastPoint Sports Badminton Sets; Easy...
SET INCLUDES: (1) Fast Setup Net Height...
EASY TO ASSEMBLE: Simply build the base,...
EASY TO TAKE DOWN: When the game is...
PLAY ANYWHERE: Easy to set up whether...
FUN FOR EVERYONE: If the family camping...
We love the innovative and unique design of this portable net; immediately, you can see that the net set is super easy to assemble.
You just take out the pieces, attach the rods, and you are ready to play. It hardly takes 5 minutes to assemble this beauty!
It is a regulation-sized net that can be assembled quickly without any tools. Additionally, the quality of the net is good as well; the net is made from nylon while the trimmings are vinyl.
A regulation sized net means it has a standard size announced by international badminton association. As a professional player, you are only allowed to play using standard size.
So if you are a professional player, this might be a good option. For a normal player who don't care about playing nationally or internationally, both regulated size and non regulated size works.
Typically regulated size nets are a bit harder to play for a beginner.
The net can wear the burnt of rain, sunshine, and dew without breaking a sweat. We love that you can pack the net and take it anywhere without in minutes.
It can be easily carried to the park, the beach, and your family's summer home. It will give you months of Badminton play without getting damaged.
The badminton net comes with 4 rackets and shuttlecocks. Although the badminton rackets and shuttles are not of great quality, they can work well as practice bats for beginners.
Overall the EastPoint Sports badminton net is a great value for money product!
EastPoint Sports Badminton Net Set is Suitable For:
Recreational players who play away from home. They require portability and ease of carrying. It is suitable for advance and intermediate level players.
For extreme beginners, it might be a bit hard to play so i won't recommend this one for extreme beginners. There are a lot of other models you can consider if you are a beginner. It won't ruin your game though, you can still play but you might not enjoy it.
5. KIKILIVE Badminton Net
This is a new company. When I looked at its reviews, it doesn't have a lot of them but they seem professional and they are giving some pretty solid features so you might consider it because it is a cheaper option with a lot of features.
Sale
KIKILIVE Weiershun Portable Badminton...
Simple Design: The badminton net is...
Lightweight Durability: This folding...
Easy to Use: Play badminton, volleyball,...
Metal Rings: Double guyline with tension...
100% Satisfaction: If you want something...
This net is designed pretty much for all other sorts of games like volleyball and tennis which is pretty good if you want to use the same product for other games.
it comes with a carry bag which is pretty cool, you can easily move it around. it is great for kids, the bag is neatly designed. Just a carry bag with this product makes it worth considering.
I liked the way this net is designed. You don't need crazy tools to set it up.
You don't need to get some help from handyman. It is designed for easy install. Your 10 years old kid can do it if they can read the instructions.
What i did't liked about this badminton net: All-in-one type products has always some underlying problems. If a company launch a product which works for a lot of different games or situations it lacks it usage as a whole.
If you are compare it with other badminton net it is pretty media-core one because it is created for all sort of different games. And it might not be enjoyable for advance players.
However, if you want to buy it for kids and you are multi game player. it can be a great option.
For kids, families, and party people attractive to those who don't want a fixed badminton net. It can be removed and installed very easily. Yes, you got me right, it can be great for parties, camping, etc. It is easily portable and fixable without a lot of hassle.

If you are a travel geek looking to add some gaming equipment to your tool kit, i'd highly recommend this one. Small investment can really increase your joy.
Selection Parameters:
Are you in the market for a new Badminton Net, but don't know where to start? If yes, then you have stumbled across the perfect guide! This buying guide by Indoor Champions will inform you of all the do's and don'ts of purchasing Badminton nets.
Let's get started!
1. Badminton Net 101
Before you venture off in search of a Badminton net, you should know what a badminton net is. It is the rectangle mesh barrier that is hung in the middle of the court to divide the court in half.
A net is one of the most essential parts of Badminton; you can't play Badminton without a net!
A standard badminton net should be 5 feet 1 inch in height and 17 feet in length for singles and 20 feet in length for doubles.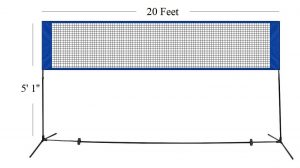 2. Consider Type:
Badminton nets come in numerous types. They can be with stands, and without, they can be stationary or portable, and they can be extendable.
Your location and playing style determine the type of net that will be most suitable for your needs.
| | | |
| --- | --- | --- |
| Type of Badminton Net | Characteristics | Most Suitable For |
| Net with posts (stationary) | Suitable for individuals who have dedicated badminton courts. The post is installed once for continual use until it needs to be replaced. Usually, clubs, gyms, rec-rooms, and sports centers find these useful. | Badminton clubs, sports centers, and professional use. |
| Replacement Net | It is suitable for individuals who already have a pole or stand and need to replace the mesh net only. It can also be purchased to extend badminton nets in rec-rooms or sport centers. | Recreational Players. Badminton Clubs. Rec-centers |
| Portable Nets | These are suitable for homeowners and recreational players. These nets come with a stand that can be easily carried from place to place. They are easy to assemble, and so recreational players can just take them out, assemble them and start playing. | Recreational Players. School Gyms. |
Badminton nets are made from a variety of wear-resistant materials such as nylon and vinyl.
The net is constructed from a close-knit mesh of durable material, and it is edged with a nylon or vinyl tape.
When purchasing a badminton net, purchase one that is tear-resistant and durable. Low-quality nylon or mesh material is likely to tear easily.
Purchase a Badminton net that is made from high-quality materials. Usually, high-quality goods provide a guarantee of their product.
If you play outdoors, then you must also purchase badminton nets that are weatherproof.
These nets will be edged with nylon instead of cloth and will have a plastic rope instead of a cloth rope.
If you are purchasing Badminton nets with stands, you should consider the material of the poles as well.
Rust-proof material is preferable for both indoor and outdoor play but especially for outdoors.
Similarly, the pole should be made of a sturdy metal such as aluminum or chrome with a protective coating. Lightweight badminton poles made from cheap metals or plastics would easily break down.
A good-quality net is a long-term investment. You will be able to use it for months, getting your money's worth.
Knotted Vs. Knotless Mesh
Knotted
Knotless
A knotted mesh is knotted in all 4 ends of a mesh square for durability. On the contrary, a knotless machine is sewn by a machine, and it does not have any knots. Needless to say, a knotted net is more durable than a knotless mesh.
Net Treatment and Coating
Net is susceptible to degradation from environmental elements such as UV rays. Most brands offer UV protection through different net treatments and coatings. When purchasing a net, look at the label to see whether they provide UV protection. A protective coating increases the life of your net.
Mesh Size
The size of the Mesh ranges from 7/8 Inch to 4-Inch Mesh. A 1" mesh is perfect for Badminton Nets.
3. Consider Set-Up Time
One more thing to consider before purchasing a Badminton Net is set-up time. You want a net that is easy to set-up and takes as little time as possible.
4. Adjustability
Consider purchasing a Badminton Net that can be adjusted for height. You can lower or raise the net as per your requirement.
For instance, if your children are playing, then perhaps a lower net will be more convenient. With an adjustable net, you won't have to buy another one just for kids.
How to Set-up Your Badminton Net?
Setting up a Badminton Net is as easy as 1, 2, 3!
1. Install the Pole in The Ground.
If you have purchased a badminton net for outdoor use, then it will come with a pole that can be inserted into the ground.
You will have to hammer the pole into the ground as per the instructions. At times, outdoor badminton nets come with stands rather than poles.
These nets have stakes that are inserted into the ground, and the stand is hooked to these stakes for stability. Follow the instructions that come with your net and proceed as instructed.
You may use the same net for indoor use if you want to affix the poles to the ground permanently.
It is more suitable for gymnasiums or sports centers, which have dedicated badminton space. However, if you are an amateur player or a homeowner, then a portable badminton net is more your speed.
Portable badminton nets come with stands that can be assembled and disassembled within minutes. You can wrap them up after you are done playing!
2. String Your Badminton Net Across the Poles/Stand
Once the poles or stand is firmly planted on the ground, string your mesh net across the poles/stand.
In case of poles, the net is attached to the pole with the help of a string, like so:
Some poles are equipped with pulleys so that the height of the net can be adjusted. In that case, pass the string over the pulley and then tie it onto the given hook. It should look like this:
3. Ready, Set, Play!
If required, adjust the height of the net, and then you are ready to play!
Frequently Asked Questions
Q: What is the regulation size badminton net?
A standard Badminton net is 5 feet and 1 inch tall and 17 feet across for singles and 20 feet across for doubles.
Q: How high badminton net should be?
A regulation size Badminton net should be 5 feet and 1 inch tall from the sides and 5 feet tall from the middle.
Q: Where can I purchase a Badminton net near me?
You can purchase a Badminton net from a sports shop near you or an online retailer easily.