Usually, shopping is a pleasurable experience, but when you are in unfamiliar territory, it can be downright annoying.
There are tons of options in the market but you don't know for which type of player this racket is designed ? I know companies usually promote their product for begineers, guess why?
Because beginners hold majority of their market share. So just company promoting a product for beginners, doesn't means it is fully designed for starter players. I did a lo to of research and came up with top 5 best badminton rackets for beginners, if you have any issues, or questions do let me know in the comments section.
Best Badminton Rackets for Beginners
We have developed a comprehensive guide to help you understand the numerous types of Badminton rackets and help you choose the one that's suitable for you.
We recommend that you read our all-inclusive buyer's guide to Badminton rackets before looking at the rackets themselves.
1. Yonex Duora 55
The Duora 55 is very responsive, and it will give good control over the direction of the Shuttlecock.
Although the Duora 55 is not a lightweight racket, it will give you a swift forehand as well as backhand. You will be able to make power shots as well as respond quickly to your opponent's smashes
The Duora 55 is made from Graphite and the nanometric technology. The bonded carbon fiber throughout the racket ensures that it lasts for a long time. Yonex provides a 6-month warranty will all their rackets.
Although not horribly weak, the smashes of Duora 55 lack real strength and power that is common for an even-balanced racket.
Overall, the Yonex Duora 55 is a good and durable racket for a beginner. It is an even-balanced racket that is ideal for both offensive and defensive techniques.
It is a forgiving racket that will let you enjoy the thrill of the game as you learn new techniques on the court!
The Yonex Duora 55 is a good purchase for beginners looking for an all-rounder racket at a reasonable price.
2. Yonex Badminton Racket
Easy to Maneuver:
The Nanoray 50 FX is a head-light racket that means it is easy to maneuver. You have more control over the racket and, therefore, more control over the direction of the Shuttlecock. Additionally, you have more room to play tactical shots easily.
Speed:
The Head-light racket is responsive and quick to swing through the air as you make a return shot.
Power:
The Yonex Nanoray 50 FX is not a lightweight racket. It weighs around 84-85.5 grams with strings attached, therefore it is on the higher end of the 4U category. Furthermore, it is a head-light racket that means it requires more power from the player for smashes. You will have to work those muscles to get some action going.
The Nanoray 50 FX is one of the most popular head-light racket choices today. It is a sturdy racket that comes in an affordable price range. It will prove to be a good companion for players who favor a defensive style.
The Yonex Nanoray 50 FX is a suitable choice for beginners and intermediate players who are partial to the defensive style of play.
3. Victor Brave Sword
Aerodynamic and Fast:
The Victor Brave Sword 1900 F features the aerodynamic frame of the entire Brave Sword series. Just like the Brave Sword 12, this racket has a brag-worthy swing seed. You can swing it rapidly to respond to your opponent and make your own shots.
Easy to Maneuver:
Although it is a head-heavy racket, it is still easy to control than other head-heavy rackets. You are able to make tactical shots expertly; the racket helps you outwit and out-maneuver your opponent for a successful rally.
The Feel:
Many users claim that the Brave Sword 1900 F feels like an extension of their arm rather than a heavy burden. They enjoy playing with it, and ¾ users show an intention of purchasing the racket after trials.
Power Shots:
The power shots of the racket are quite good. It is a head-heavy racket, and they are known for giving players more power behind each shot with minimum exertion.
The Victor Brave Sword 1900 F is an excellent racket in every aspect; it is affordable, it gives high speed, it allows control, and it gives you the power behind each shot. Beginners will love this racket for its versatility and function.
The Victor Brave Sword 1900 F is suitable for beginners who want to practice offensive as well as defensive techniques.
4. Li-Ning Windstorm 500
LI-NING Windstorm 500 Defensive...
PARAMETER: This racket is the defensive...
DYNAMIC-OPTIMUM FRAME: The sweet point...
AERO TEC-BEAM SYSTEM: Based on...
TB NANO POWERTEC: The nanometer...
FEATURES: Made the design of 7.0mm...
Responsive:
The Windstorm 500 is manufactured under the Aerotec-Beam system that reduces air-resistance to increase the swing speed of the racket. This technology, combined with the ultra-lightweight of the racket makes it very responsive, so you are able to make quick return shots.
Strike Force:
Lightweight rackets often lack in power; however, this head-heavy racket is a perfect combination of speed and power. You will be able to make smashes with this racket while still being able to make tactical hits and saves.
Control:
The windstorm 500 is easy to maneuver; it is lightweight so you can easily move it in any direction you wish. It gives you higher accuracy in your hits.
Not for Advanced Players:
The racket is ideal for beginners, but it doesn't have sufficient luster for professional players.
Have you been looking for a racket that gives you an ideal combination of power and balance? Then you have found one in the Li-Ning Windstorm 500. Weighed at 75 grams; this head-heavy racket is an extremely lightweight yet powerful racket. The lightweight racket will not cause you any strain as you make perfectly controlled and yet powerful shots.
It is for beginners and intermediate Badminton players who are looking to find the right compromise between control and power. It will help increase the accuracy of your shots while keeping the strike force intact.
5. Victor Jetspeed S 011
Smash Hits:
The Victor Jet Speed S 011 enables you to make excellent smashes. Players will be able to hit thunderbolts with ease and accuracy. This is excellent for beginners with an attacking style of playing Badminton.
Power:
The Jet Speed S 011 is a head-heavy racket. As such, it is ideal for power shots. Our observations and trial showed this assumption to be true. The racket helps you make power shots without much effort. The sweet spot of the racket is quite wide, enabling beginners to hit the shuttle in just the right way for maximum power.
Maneuverability:
Surprisingly, this power-supporting racket also gives high accuracy and control. You will be able to make flat drives and responses. The racket works great if you are playing in the midcourt; it responds well to deceptive moves, changes in direction, and change in the pace of the play.
Lags in Speed:
This drawback is a stretch; I am comparing this to Jet Speed 10, so that is the only reason that I think it lags in speed a little. Although the swings are fast, it is more power-oriented than speed-oriented. However, it is not a slow racket! I believe it is a good trade-off between power and speed.
Grip Size:
Although I don't mind it, some players may find the G5 to be too small. You can always enlarge your grip if you are opposed to a G5.
I really enjoy this racket; it is great for a ferocious game of Badminton at the beginner level. Players will be able to hit smashes with little exertion. They will also be able to practice different maneuvers and techniques easily. This racket will help a beginner or an intermediate player who want to play every day to sharpen their game.
The Jet Speed S 011 is an amazing racket for clever players who rule the mid-court. It will help them make deceptive shots, quick changes in pace, and ingenious changes in direction. Beginners will thoroughly enjoy this racket as it will give them greater control and ease.
Buying Guide
This guide is for anyone who wants to purchase a new Badminton racket, but specifically, it is intended for new and mid-level Badminton players. Players who have been playing a few rounds with their buddies on Sundays and are now starting to feel excited about the game. There comes a stage when the spare rackets at the club don't cut it anymore, and every new player wants to purchase their own racket.
But which racket to buy? There have never been more options! Every brand claims that their racket is superior to the other; how is a beginner to know which racket is the best buy? We have compiled this guide to help you choose the best racket and save your head from exploding from exaggerated marketing chatter.
Before we look at anything else, let's take a look at the anatomy of a Badminton racket.
Knowing the names of the different parts of a racket is essential for choosing the best racket. Some of the parts, such as string bed, handle grip, and shaft size will come in handy when choosing the right badminton racket.
Let's look at the elements you must consider before purchasing a badminton racket: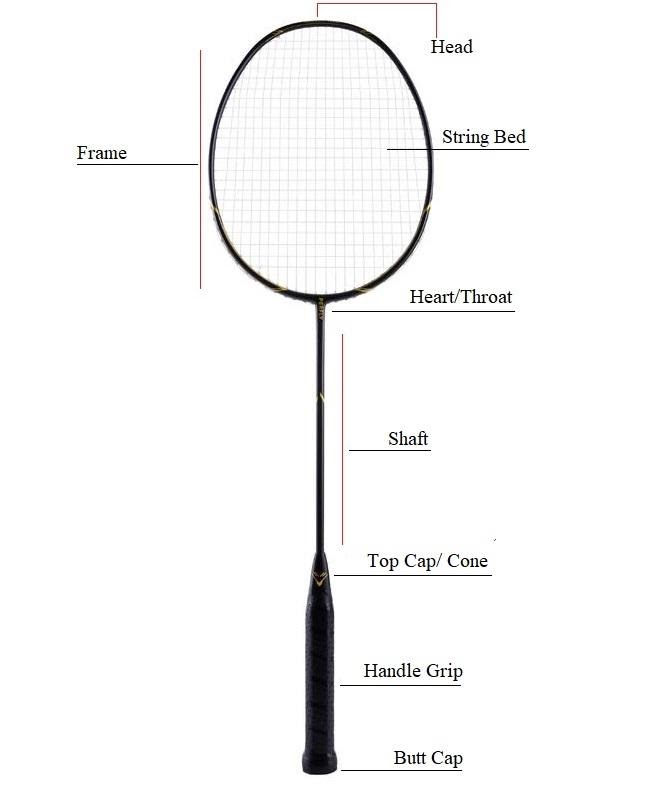 1. Weight
Badminton Rackets come in various weight categories. Manufacturers use the symbol U to represent the weight of a racket. There are 6 popular sizes; 1U – 6U, with the smallest number being the highest in weight. To clarify, here is a chart of the sizes and their respective weights:
| | |
| --- | --- |
| Size | Weight |
| 1U | 95-99g |
| 2U | 90-94g |
| 3U | 85-89g |
| 4U | 80-84g |
| 5U | 75-79g |
| 6U | 70-74g |
Why Is Weight Important?
Because of physics. A heavier racket will give more power in your throw. So essentially, with a heavier racket, you will have a higher momentum, and you will be able to hit you shuttle farther.
On the downside, a heavier racket is harder to control and maneuver. Your hand may get tired, you may be able to swing it properly, and it will be difficult to make fancy moves.
Contrarily, a lightweight racket gives you more speed. You are able to react more quickly; a lighter racket increases your chances of returning smashes from the opposition with great speed.
So which racket weight should you choose? Racket weight corresponds to your strength & gender, playing style, the format of play, and level of play.
If you are a lightweight individual with minimal or no muscle mass, then you should choose a racket with some weight because it will give you more power. However, the weight shouldn't be so much that you are not able to handle it.
Experts recommend that you should practice with mid-range rackets to see which weight works best for you. Commonly, 3U or 4U rackets are most popular because they provide an ideal balance between power and maneuverability.
Secondly, you should choose the weight depending on your style of playing Badminton. If you are an attacking player, then a heavier racket will suit you more because you will be able to hit harder. On the other hand, if you have a defensive style, then a lighter racket is suitable because it enhances your ability to react quickly.
Thirdly, the format of play is also important when selecting the weight of a racket. Heavier rackets are more suited to single play because the dominant tactic in singles is an offensive attack. On the other hand, doubles Badminton is quicker and more reflexive.
Players need to be ready to save the opposition's hits and deliver their own within seconds. So, speed and reflex are of Essence. Thus lighter rackets are more appropriate.
Finally, your experience and level of play are also essential when choosing the weight of a racket. Beginners should start with a lighter weight and work up to heavier rackets.
If you are an adult beginner, then start with a 4U racket because it offers power, speed, and momentum. If you are a young player, then choose a 5U racket for the same reasons.
Here are recommendations on the basis of the above factors:
| | | | | | |
| --- | --- | --- | --- | --- | --- |
| Size | Weight | Style | Format | Strength & Gender | Player Level |
| 1U | 95-99g | Attacking | Singles | A strong adult male player | Expert Professional |
| 2U | 90-94g | Attacking | Singles | A fit adult male player | Professional |
| 3U | 85-89g | Attacking | Singles | A fit adult male player A strong female player | Professional/Mid-level |
| 4U | 80-84g | Defensive | Doubles | A fit adult male player for defense A fit adult female player for offense A weak adult male for offense A young player (12-16) for offense | Professional/Mid-level |
| 5U | 75-79g | Defensive | Doubles | A weak adult male/female player for defense A young player for defense | Mid-level/Beginner |
| 6U | 70-74g | Defensive | Doubles | A weak adult male/female player for defense A young player for defense | Mid-level/Beginner |
Of course, these are just general recommendations. You can find your own ideal racket by practising with a few and seeing which works for you.
The weight of the racket is often written on the cone and the handle grip.
2. Balance
A Badminton racket has 3-types of balances:
Head-Heavy Balance Badminton Racket
In a head-heavy balance badminton racket, most of the weight is centered in the head of the racket. A racket with a balance point of 295mm or more is considered head-heavy. These rackets give higher momentum, power, and swing in each shot. On the flip side, reactions are sluggish. A heavier head racket is also harder to maneuver and balance. They are more likely to cause pain in your arm and wrist.
Head-Light Balance Badminton Racket
In the head-light balance, most of the weight is centered in the lower part of the racket. A racket with a balance point of less than 285 mm is considered head-heavy. These rackets are ideal for a quick, fluid, and reflexive game. You can hit more quickly with these rackets, making them an ideal choice for doubles' badminton players. They give a higher control but less power in each shot.
Even-Balance Badminton Racket
The weight is distributed evenly in even-balance rackets. Generally, a balance point between 285mm and 290 mm is considered even-balanced. The head carries as much weight as the bottom half of the racket. These rackets are versatile; they suit every playing style and format. They are generally more popular.
Tip: You can make the head of your racket heavier by adding lead tape to it. Alternatively, you can make a racket even balanced or head-light by adding more layers of grip to the handle.
3. Shaft Flex
Shaft flex is short for shaft flexibility. Simply, it refers to how easily the shaft flexes. A stiff racket will not flex at all, meaning that it won't bend with movement or when hit by the shuttlecock. On the other hand, a flexible racket will flex easily.
Badminton Rackets vary in the flexibility of their shaft, rackets can be flexible, medium flex, stiff, and extra stiff.
Should you choose a stiff or flexible racket?
It depends on several factors; first of all, it depends on the speed of your swing. A racket will flex only at a certain amount of swing speed. So, if you are a new player, then your swing speed will be slow, and therefore you should choose a flexible shaft. Whereas if you are an expert player, then your swing speed will be high, and you should go for a stiffer shaft.
Tip: A stiffer shaft will require more power. Basically, you will have to exert a lot of strength and power behind each shot. This can have a toll on your arm and especially your wrist. You may suffer from pain, inflammation, and discomfort. I would suggest that you choose a 'stiff' racket rather 'extra stiff.' Beginners must start with a medium flex or flexible shaft racket.
| | |
| --- | --- |
| Benefits of Flexible Shaft | Benefits of Stiff Shaft |
| Allows powerful shots without exerting too much power | More control over the direction and placement of the Shuttlecock |
| Great for beginners | Higher chances of hitting smash |
| Great for defending smashes | Faster return shots |
| | |
| --- | --- |
| Shortcomings of Flexible Shaft | Shortcomings of Stiff Shaft |
| Less control over shuttle direction | Requires more strength from the player |
| Return shots are slower | May hurt wrist and arm |
| Not suitable for hitting smashes | Not suitable for beginners |
4. String Tension
The string bed is one of the most essential parts of a Badminton racket. It is made of strings stretched across the racket frame. String tension refers to the tightness with which the strings have been stretched. Commonly string tensions range from 19 lbs. To 32 lbs. With 19 being the lowest.
String tension plays a vital role in your ability to play shots well; if the strings are slack, you won't be able to deliver a powerful shot.
However, you have to be very careful when choosing string tension, consider the following:
All strings are made of elastic; therefore, every kind of string will start to lose 'tension' from the day you start playing with them.
Most people believe that the higher the tension, the more powerful shots they can deliver. While it is true that you should not get a slack racket, the level of tension is important. If string tension is too high, you will require excessive arm strength to return each shot, it can increase the chance of injury.
Tip: Beginners should choose a low-medium string tension racket.
Here are some recommendations:
5. Grip Size
The grip is the bottom-most part of a badminton racket. It is the place where a player holds the racket. The grip can be small and large, usually ranging from 2.75-inches 4-Inches in length.
The size of the grip depends on your individual preference; if you prefer to exert power from your wrist, then a shorter grip is preferable, but if you prefer to use your entire arm, then a longer grip will more suitable.
Most players prefer a 3 or 3.25 sized grip. You can increase the size by adding extra grip on top. Grip sizes are mentioned on the cone along with the weight of the racket.
Here are the most common grip sizes:
| | |
| --- | --- |
| Grip Size | Inches |
| G1 | 4 |
| G2 | 3.75 |
| G3 | 3.5 |
| G4 | 3.25 |
| G5 | 3 |
| G6 | 2.75 |
The head is the topmost part of a badminton racket; it can be of two shapes:
Isometric head shape or Square
Conventional head shape or Oval
The only difference between the two shapes is the size of the sweet spot. The sweet spot is a place on the string bed, which gives you maximum power. Square frames have a larger sweet spot as compared to their oval counterparts.
Tip: Beginners and intermediate players should opt for a square-shaped badminton racket to enhance the accuracy and momentum of their shots.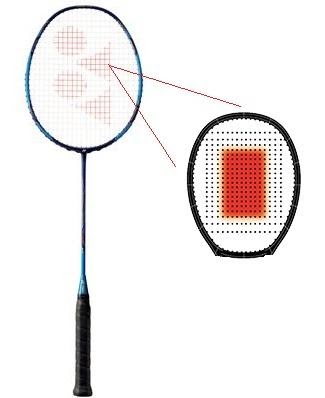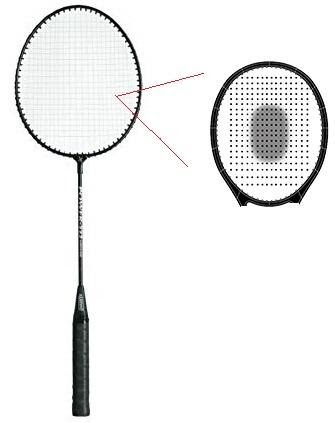 We developed this guide to help Badminton players, especially new ones, learn the significance of the different parts of a racket. Additionally, it highlighted the role each part plays in the play. The recommendations in this guide are made on the basis of our experience, advice from experts, and player reviews. It is a general guideline that can increase your chances of purchasing the perfect racket for your playing style, playing level, and play format.
After giving this guide a thorough read, we recommend that you try a few racket options to find out the one that suits you best. There is no one racket for everyone, and your preference is the final and most important determining factor.