Foosball or Table Soccer is a popular indoor game in America. Typically, Foosball is played by 2-4 players on a 56-Inch table. It is a competitive game of skill that is enjoyed by adults as well as children. You can play a challenging game of Foosball by visiting your local bar, recreational center, sports club, or gym.
You can also purchase a Foosball table for your home, Read The Best Foosball Tables, for a comprehensive review.
Child development experts claim that games like Foosball greatly encourage positive developments in children. Kids learn to become more social; they learn to share, and they develop a sense of competitive sports all while enjoying themselves!
One study even shows that kids can become more compassionate by playing Foosball. Buying a Foosball tabletop for your child is an investment that will pay dividends throughout their life.
To help you choose the right Foosball tabletop, we have developed this comprehensive review of the best mini foosball tables on the market. It will only take you 15 mins to read!
If you are in a hurry, take a quick look at our choice of Foosball Tabletops:
Foosball tables can be quite expensive; a good quality Foosball table will cost more than $300 at least. Secondly, Foosball tables take up a lot of space. If you live in an apartment or a small house, then your space will become even more restricted by a 5 feet long Foosball table. Additionally, full-sized Foosball tables are not suitable for children. They may not reach the rod handles, and the game might be too complicated for them.
To overcome all these problems, you can purchase a mini Foosball table, also popularly called Foosball Tabletop. The tabletops are a compact version of the full-sized game.
You can put the tabletop on any level surface such as the floor or your dining table, and you are ready to play. Mini Foosball tables are easier and quicker to assemble, don't take a lot of space, and are suitable for children.
What to Know Before Reading the Reviews
Have you ever started reading a product review and thought to yourself, "What in the world is this reviewer talking about?" If yes, then you are not alone. Most reviewers are experts in the products they are reviewing, they often forget that they are using jargon which may not mean anything to the reader.
To make sure that you understand the reviews in their entirety, I am including an explanation of a few terms:
1. ABS (Acrylonitrile-Butadiene-Styrene)
ABS is a form of plastic that is commonly used in low-priced gaming tables, tables, gaming accessories, hard luggage, construction pipes, protective gear, electric sockets, and musical instruments, etc. ABS has high tensile strength, and it is very resistant to physical and chemical impacts. ABS is also versatile; it can be made in any color and printed in any design. It looks aesthetically pleasing, as well.
Its high tensile strength, versatility, the low weight makes it a suitable material for tabletop Foosball. If handled carefully, it can last for a long time. Most plastic tabletops are made from ABS plastic. However, polycarbonate and polypropylene plastics are stronger and more durable alternatives.
Why should you care?
Knowing that a tabletop Foosball game is made from ABS will give you a hint about its strength and durability. It will also give you a reference point for the price; since ABS is not an expensive material, you should expect the price of the tabletop to be affordable.
2. Counterbalanced Players
Counterbalanced players are designed with a 50/50 ratio. This means that the weight of the player is equally divided between his upper and lower body, i-e., the head and the feet. On the other hand, a non-counterbalanced player is designed with most of the weight in the lower body or the feet.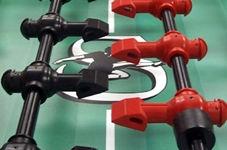 Why should you care?
If you have non-counterbalanced players, they will spin by themselves on the rods because most of the weight is in the feet. Additionally, they are harder to control, and they can't grip and pin the ball easily. Basically, you can't execute skilled moves on non-counterbalanced players. If you are a child, then this specification won't make a difference since children are mostly playing it for fun and are not looking to execute snake shots.
However, if you are an adult, then this detail is crucial; even for a beginner, it is vital to purchase a Foosball table with counterbalanced players so that you can practice and execute Foosball techniques.
If you are interested in learning some cool Foosball techniques, check out the German Foosball champion's video below:
3. 1-Goalies Vs. 3-Goalie
Some Foosball tables have a 1-goalie rod, whereas others have a 3-goalie rod. In American Foosball, there used to be 3-goalies. This means that the last rod, the one right in front of the goal post, has a 3-player rod.
On the other hand, in European Foosball, there is a 1-goalie rod, meaning that the rod in front of the goalpost has only 1 player. American standards have accepted the 1-goalie rule, and now most tables in America offer a 1-goalie version as well. This may also be because of the fact that professional players prefer to play on a 1-goalie table.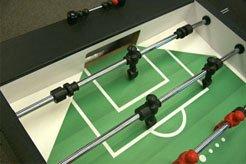 Why should you care?
A 1-goalie table is harder than a 3-goalie table. It is quite simple; more players mean that you have a higher chance of protecting your goal. This is especially important if you're are a child or a beginner. Since the skill level of a child or a beginner is in the early stages, they need all the help they can get to guard their goal.
So, if you are purchasing a Foosball table for a child or a beginner, then a 3-goalie player is more appropriate. However, if you are buying a table for a Foosball enthusiast or a professional player, then a 1-goalie Foosball table will be suitable.
4. Side Ball Return Vs. End Ball Return
Foosball tables have a ball return system; it means that the balls which are shot into the goals come out into dedicated ball return trays or pockets. Some Foosball tables (usually the more expensive ones) have a side ball return system in which the ball return is at the side of the table rather than the end. On the other hand, some tables have the ball return system at the end.
While both are acceptable, side ball return systems are preferable because:
A side ball return is easier, and it takes less time to put the ball back in.
A side ball return allows you to push the table closer to the wall if you space constrictions.
Most end ball returns cause the ball to fall on the force, they don't fall in a side return system.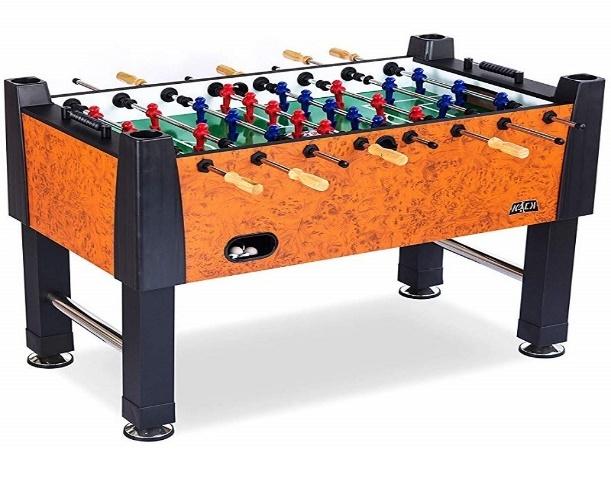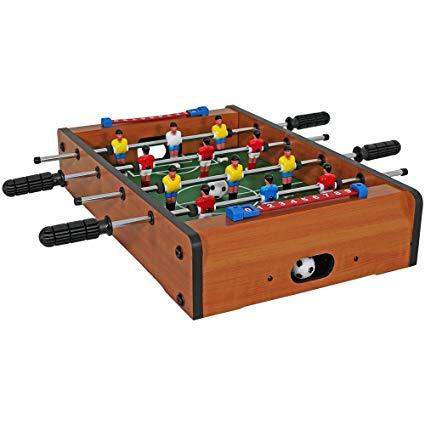 Why should you care?
A side ball return system is more convenient. If you want a smoother gaming experience, then you should consider tables with side ball returns. It may also be worth considering if you have a smaller space.
5. Telescopic Vs. Hollow Steel Vs. Solid Steel Rods
You will often read the words 'telescopic rods' or 'hollow steel rods' thrown in a Foosball table review. But what do these terms mean? The first thing you should know is that steel rods are good quality rods. You should always buy tables with steel rods.
Secondly, you should know that a light rod will give you more speed and more control over the Foosball. So, try to purchase a table with lightweight steel rods.
Traditionally, Foosball table rods were made from solid steel. These rods are durable and light enough to play a skillful game. However, they were not light enough for professional players and so manufacturers started making hollow-steel rods.
The hollow steel rods combine both essential features; they are durable, but they are also lightweight. Most high-end Foosball tables have hollow steel rods.
Finally, some contemporary tables offer telescopic rods. Just as the name implies, telescopic rods have the ability to come in and out of themselves, without protruding from the opposite end. Just imagine a telescope; it has hollow rods that go into another so that it becomes compact.
Similarly, manufacturers started making telescopic Foosball rods so that you can push the handle in to make it shorter once you are done with the game. However, telescopic rods are not as fast or durable as hollow steel rods.
Telescopic Rod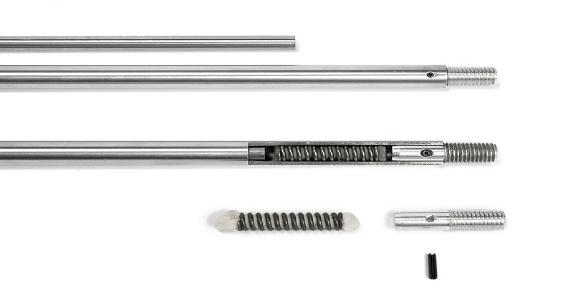 Hollow Steel Rod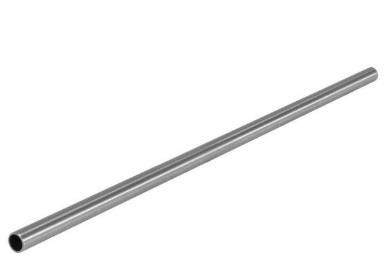 Solid Steel Rods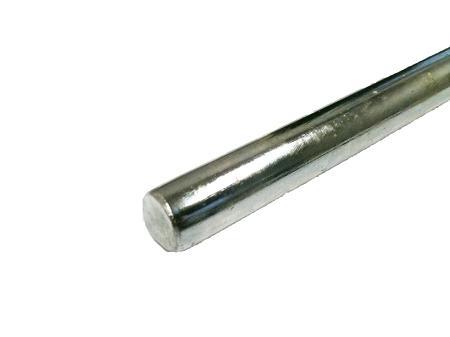 Why should you care?
We always want to get the best value for our money. So, make sure that the table you are purchasing has steel rods. Rods of other materials will bend easily, and you will have to replace them after some time.
Secondly, think about which characteristic matters more to you. Is playing a fast game the most important to you or having a compact look? Once you have determined your preference, you can find the most suitable Foosball table rod.
6. Players with Crosshatch Pointed Toes
Traditionally, Foosball players had rounded and slick toes. These toes were useless for catching and pinning the ball or making shots like the snake shot or bank shot. To overcome this problem, manufacturers started making players with pointed toes and a crosshatch design. With this design, players can pin the ball and make complicated shots easily.
Here are two pictures for comparison between the two toe styles: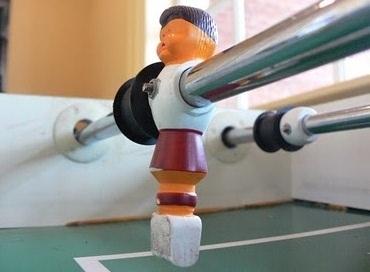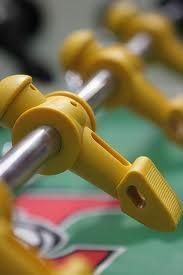 Why should you care?
You want to purchase a table that has pointed, and crosshatch-toed players. These players will allow you to play a better game and practice your skills. If you are purchasing the table for children less than 10-year-old, then this may not be a major concern.
However, if you are purchasing a table for adults, always buy a table where players have pointed and crosshatch toes.
1. Rally and Roar 40" Foosball Table
Rally and Roar is a prominent gaming brand; it manufactures products for outdoor and indoor games. The 40-Inch Foosball tabletop is one of its best-selling games. It is ranked #2 in Amazon's best-selling Foosball tables list, and it is an Amazon Choice product.
The company claims that the Rally and Roar 40" Tabletop is a fun and portable activity for adults and children in games rooms, bars, and arcades. This certainly is true; the bright colored design of the tabletop is suitable for arcades and game rooms both. Its contemporary look appeals to children as well as adults. If I saw it in a bar, I will make a bell-line towards it straight away!
Even if you miss the colors, you will not miss the size of this tabletop. At 3.34 feet, this is one of the big tabletop Foosball tables. The Rally and Roar Foosball tabletop are made from ABS plastic, which means that the table is reasonably sturdy. The rods of the table is also of good quality; they are hollow stainless steel with non-slip rubber handles. The non-slip handles will give you a good grip to make your moves.
The players are clad in a bright blue and orange uniform, but to my disappointment, they are not counterbalanced. However, they are not completely out of balance either, and you can spin them easily. Additionally, the table has 3-goalies, which is a good thing considering that it is targeting children. The table has a smooth playing surface, which is great for making moves and scoring points. Although ABS is vulnerable to warping, the playing surface on the Rally and Roar table has had no such complaints. I will give Rally and Roar brownie points for the cute goalposts at the end. They increase the aesthetic value of the table as well as minimize the risk of the balls falling down.
On the negative side, I am not a big fan of the legs. Yes, they are foam-padded, and they won't scratch the surface of your dining table, but they are also pretty fragile. In my opinion, they will break easily under an intense game. My suggestion is that you don't use them altogether. If you are scared about scratches, then put a cloth on the surface, and you are good to go. Another negative is that the table does not have a side ball return. It is more of an inconvenience, but you get my point. Finally, the Rally and Roar tabletop are more expensive than any other Foosball table while having the same material and specification. The tabletop is well-designed and well made, but it is also 10 bucks steeper than its competition.
Takeaway
Although the company claims that adults can play on this tabletop, I am not so sure. I think the only way an adult will play on this table if it's with their child. The tabletop cannot sustain the fast and furious pace of an adult on an adult Foosball game. Despite this drawback, I will give the Rally, and Roar 4.5 stars because it is sturdy, well-designed, well-made, and a great set for family activity.
The Rally and Roar will be ideal for rec centers and gyms for children and families.
It is also a great option if you are looking to buy a Christmas gift for your kids, grandkids, or any other lucky young one.
Specifications
Brand
Rally and Roar
Model
SOC040_018P
Dimensions
40" x 20" x 9"
Weight
16 Pound (lb)
Material
ABS
Rods
½ Inch chrome-plated steel
Handles
Non-slip rubber
Players
Not counterbalanced
Legs
Foam padded, foldable legs
Design
Brightly colored and pleasing
Assembly
Partially pre-assembled. Full-assembly takes 60-90 mins
Warranty
No
Additional Features
Padded base.
PROS
Attractive Design
Well-made, professional craftsmanship
Large-sized makes it fun to play
Easy to assemble
Easy to carry
Sturdy table, won't break easily
Non-slip rubber handles allow a stronger grip
Hollow steel rods allow a faster game
3-goalies
CONS
Legs are fragile, will break easily
Players are not counterbalanced
End ball return
Quite expensive for a tabletop
2. Portzon 27" Foosball Table
Portzon is not as famous as Rally and Roar, but it has been making good quality products for quite some time. Portzon is known for its gym and gaming equipment. The 27-Inch Foosball tabletop from the company is rated #24 on Amazon's best-selling Foosball tables list.
First of all, the table is made of ABS and MDF. Right away, this tells me that the table is going to be reasonably sturdy.
You can't expect Foosball tabletops to be as robust as the full-sized Foosball tables, but a combination of ABS and MDF is pretty sturdy. The Portzon tabletop comes with stainless steel rods that are fairly strong; they don't bend or flex while playing. The company claims that the handles are ergonomically designed.
I can't say whether this is true or not, since the company does not provide any certification, but I can tell you that they are easy to grip and use. The assembly is another plus point; it generally takes 20-30 minutes for the whole thing to come together. The table comes with a manual scorekeeper, end ball return, and 2 Foosballs.
On the flip side, the craftsmanship of this tabletop is pretty shoddy. The drill holes don't align properly, and so you can't put the screws in all the way. If you have a drill, it may be more helpful since it will force the screw to fit. Secondly, the edges of the MDF are quite rough, which gives the table a cheap look. For the price, this careless assembly is quite disappointing.
Another disappointing characteristic is the weight of the table, at 10.6 lb, it is pretty lightweight, and I am afraid the table will move a lot while playing. Another drawback of the table is that the players are distributed in an unusual manner; there are 3 players on each rod instead of the standard 5 3 and 3 design. This changes the way you play Foosball since you will have to make up new techniques to shoot and block the Foosball
Takeaway
The Portzon 27'' Foosball Table is a decent purchase. I will give it a 3 out of 5 because the table is sturdy, has stainless steel rods, and is quick to assemble despite not having a manual. I have deducted points for its unusual player lineup, frustrating assembly (drill holes don't align, and there is no manual), and poor craftsmanship.
Parents of children aged 5-7 may purchase this Foosball table. The table will provide fun and entertainment to the kids, they won't care about the wrong lineup or the rough edging. 😊
Specifications
Brand
Portzon
Dimensions
27" x 14" x 9"
Weight
10.7 lb
Material
ABS and MDF
Rods
Stainless steel
Players
Not Counterbalanced
Legs
MDF
Design
Attractive
Assembly
30 minutes
Warranty
No
PROS
Strong for the price
Quick to assemble
Easy to carry
Stainless steel rods
Handles are comfortable and easy to grip
CONS
The player lineup is not per regulation
Poor craftsmanship
Drill holes are misaligned
3. Harvil 38" Foosball Table
Harvil Products or Harvil is a sub-brand of Dazadi, an American manufacturer. All Harvil products are designed and manufactured in the USA. If you are someone who wants to support the home industry and purchase the USA only then Harvil is a strong contender. Apart from its locations, the table is impressive because of its sleek design, sturdy build, and expert workmanship.
One look at this table will tell you that it is a quality product. Surprisingly, the official website of Harvil and its Amazon page both neglect to mention the material with which this table is constructed. My experience tells me that the table is made from a combination of MDF and ABS. I have personally examined the tabletop as well as read more than 50 customer reviews, both tell me that the cabinet is sturdy and robust. Surprisingly, the legs of the table are quite strong too. Their angled design maximizes their tensile strength, which is pretty smart.
The table has steel rods, again Harvil does not mention whether they are solid steel or hollow steel. While I can't be absolutely sure, in my opinion, it is a solid steel rod. However, it was pretty lightweight upon moving. I really like the handles as well; they are easy to grip, even with sweaty hands.
The goalposts and the manual scorer are cool features; they provide utility as well as add to the aesthetic appeal of the table. The table has a 3-goalie configuration, which is ideal for children and beginners. The size of the table is pretty solid as well; at 3.17 feet, the table is small enough to be portable and big enough to be challenging. Finally, the Harvil 38-Inch Foosball tabletop had a 90-day warranty. You can ask for a replacement of damaged parts, replacement of the entire table, or a complete refund within 90-days of the purchase.
The only negative thing I have to say about this table is that the brand does not mention the material they have used to construct the table. It is very strange, and people may be discouraged from buying the tabletop because of it.
Takeaway
The Harvil 38" Foosball Table is a reasonably priced, high-quality, and well-made Foosball tabletop. I will give it a 4.5/5 because it has all the components of a quality tabletop Foosball; it is made of durable material, has steel rods, counterbalanced players with crosshatch pointed toes, non-slip handles, level-playing surface, and a 90-day manufacturer warranty.
Harvil claims that their Foosball tabletop is ideal for 4-year old kids and kids at heart. In light of this sentiment, I would recommend that this table is suitable for kids aged 4+ and their parents who want to enjoy a family game of Foosball.
Specifications
Brand
Harvil
Model
B01N1FB9XD
Dimensions
38 x 19.75 x 8
Material
Not-mentioned
Weight
12.13 lb
Rods
Steel rods
Players
Counterbalanced with cross-hatch toes
Legs
Small, sturdy legs with scratchproof padding
Design
Timelessly elegant
Assembly
30 minutes
Warranty
90- days
Additional Features
Non-Marking Padding on the legs
PROS
High-quality, durable table
Steel rods
Non-slip rubber handles
Portable
Counterbalanced players with crosshatch toes
3-goalies
Non-scratch pads on legs
Beautiful design
Good-sized table
90-day warranty
Very Affordable
CONS
Incomplete information about the product
Currently not In-stock
4. Sport Squad FX-40" Foosball Table
Sport Squad is a famous American company that manufactures indoor and outdoor gaming equipment and accessories. The Sport Squad FX-40" Foosball Table is one of its best selling products. It is the #9 most sold Foosball table on Amazon and an Amazon Choice product.
The reason for its popularity includes a competitive size, high-quality construction, attention to detail, and an affordable price tag.
The Sport Squad FX-40 is made from high-quality MDF. The company claims that this tabletop can withstand competitive and convenient gameplay. The main cabinet is quite sturdy; the board looks durable, and the print is scratch proof.
The legs did not impress me very much, but they are not too frail. The rods and handles of the table are of high quality as well; chrome-plated steel rods with ergonomically designed handles which maximize grip. The rods are pretty substantial, and they don't bend with fast and hard play.
The players have pointed and crosshatch toes, which increase their capability and utility. The ball return pockets are attractively designed; they are reminiscent of the actual soccer goal posts and increase the appeal of the table.
I am pretty competitive by nature, and so I always prefer challenging games. Perhaps, this is the reason I am considering longer Foosball tabletops as an advantage. This table is 3.34 feet long, a very substantial size for a mini Foosball.
This table is quite perfect for the price range, but if I had to point out a drawback, it would be the quality of the players. While they have pointed crosshatch toes, they are not counterbalanced. Another flaw is the player lineup; there are three players on each rod instead of the standard 3, 2, and 3 or 1 (goalie) lineup. This could affect your techniques and style of playing Foosball.
Takeaway
The Sport Squad FX-40" Foosball Table is a high-quality, affordable, and well-made Foosball tabletop. As with most tabletops, the FX-40 is preferable for children aged 4+. However, adults can play on the table as well. In my opinion, adults can play alongside their kids for a light and fun Foosball game. I will give this table a 4/5 because of its affordable price, high-quality, and attractive design. I would have given it a full 5, but the player lineup took away one point.
The company claims that the Sport Squad FX-40 is ideal for birthday parties, BBQ gatherings, tailgate events, and family gatherings. I agree this tabletop can be perfect for some lighthearted competition at friendly gatherings. Parents should buy this for bringing the family together for some quality time.
Specifications
Brand
Sport Squad
Model
SSF1001
Dimensions
40″ x 20″ x 8″
Weight
15.4 lb
Material
MDF
Rods
Chrome-plated steel rods
Players
Pointed and crosshatch toes
Legs
Legs with foam pads
Design
Sporty
Assembly
30 minutes
Warranty
No
PROS
Good quality MDF – Durable and sturdy table
Looks great
Steel rods with non-slip handles
3-goalies
Level playing surface
Lightweight for its size
Non-marking padding on legs
Affordable
CONS
The player lineup is not per standard
Players are not counterbalanced
5. Giantex 27" Foosball Table
Giantex is an international e-retailer; it is an Amazon associate and sells products in more than 10 European and North American countries. Giantex sells furniture, sporting goods, pet supplies, and home interior products, among others. The Giantex 27" Foosball Table is one of its best selling products, it ranks #3 in Amazon's bestselling foosball table list. I like this product because it provides good value for the money; it is affordable and of adequate quality.
The Giantex 27-inch foosball table is made from a combination of MDF and ABS. The cabinet is made from MDF, whereas the playing field is made from ABS. The playing surface is level and smooth. The MDF of the cabinet is not of a very high-quality but is quite adequate for the price of the tabletop.
Some customers have complained that it chips easily and may break down if you play aggressively. In my opinion, that is to be expected from a $40 table. The brand claims that the rods are solid steel rods, but I didn't find them to be solid steel. My experience tells me that the rods are hollow steel or lightweight solid steel. Either way, they are of good quality and won't bend easily. The rods are accompanied by rubber handles that are easy to grip.
A disappointing feature is the lineup of the players; all rods, including the goalie rods, have 3-players each instead of the standard 3, 2, 3/1 (goalie) formation.
This lineup is acceptable for children aged 5-7, but it is not acceptable for older children and adults. The techniques of Foosball depend a lot on the location of the player, so adults need a table that has a regulation lineup, not this arbitrary formation. The players themselves are not counterbalanced, and they don't have pointed crosshatch toes.
However, the toes are not completely rounded either. A small stand beneath the feet can help catch and pin the ball easily.
The ball return pockets of the tabletop are pretty disappointing, as well. The pockets are unable to hold the ball, and often, the ball will fall out from the pocket and onto the floor.
Takeaway
I will give the Giantex 27" Foosball Table 3.5/5 despite its random player lineup and poor craftsmanship because the table is affordable and of adequate quality. Other tables, such as the T&S 27" Foosball Tabletop, have the same specifications as the Giantex 27-Inch, but they have a steeper price. In comparison with those tables, the Giantex is a good bargain.
Parents of kids aged 5+ should purchase this table for their kids. Foosball is an interesting activity, and this table will keep your kids occupied. Foosball increases critical thinking and enhances hand and eye coordination, so your kids will benefit from having this tabletop foosball game in their playroom. It will make a great gift as well.
I will not recommend this table for adults or even for older kids. This table is not made for ferocious and fast play.
Specifications
Brand
Giantex
Model
TY557858
Dimensions
27″ X 15″ X 9″
Material
ABS and MDF
Weight
12 lbs
Rods
Hollow steel rods
Players
Not counterbalanced
Legs
Yes, without padding
Design
Utilitarian, looks good
Assembly
30 minutes
Warranty
No
PROS
Steel rods; won't bend easily
Rubber handles
Good playing size
Lightweight and easy to carry
Affordable
Good looking design
Easy to assemble
CONS
The player lineup is not regulation
Ball return pockets are useless
The cabinet chips easily and cannot support adult game
The legs are without padding
Conclusion
Tabletop Foosball Manufacturer's claim that tabletops are suitable for children as well as adults. After an extensive analysis of the products based on personal observations and customer reviews, I can confidently say that Foosball Tabletops are only suitable for children. I will give you the following reasons for my opinion:
Even the best quality tabletop is not as sturdy as the cheapest Foosball table.
The players are not counterbalanced, and most don't have pointed crosshatch toes
The player lineup is incorrect; most Foosball Tabletops have a 3, 3, 3 alignments of players. This means that each rod has 3 players, whereas the standard lineup is 5, 3, 2, 1/3 (goalie).
The size of most tabletops is too small to be entertaining for adults
At best, I would recommend that adults play on tabletops only when they want to spend time with their children. Even then, they should not play a hard and fast game, or the tabletop might break.
That said, Foosball Tabletops are a great product for children aged 4 and above. Foosball is not only entertaining, but it also improves hand and eye coordination as well as critical thinking. Other advantages include:
Foosball will help your child develop an interest in sports
Foosball will help your children become more socially apt. They will be able to communicate easily as they play in groups.
Foosball will help reduce the social anxiety of your children
Foosball will keep your child away from continuous screen time
Foosball will help you enjoy quality family time with your child
I would highly recommend Foosball Tabletops for children; they are a great gateway table to the actual foosball later on.
Is your child's birthday coming up? A Foosball Tabletop is an ideal gift. If your budget is tight then go for the Giantex 27" Foosball Table, if you are looking to get the best value for your buck then purchase Sport Squad FX-40" Foosball Table, and if you don't mind spending a few extra bucks for a beautifully designed tabletop then Rally and Roar 40" Foosball Table is the tabletop for you.
Do you have any more questions? Let us know in the comments section below.